March 22, 2018 by
Beth Sitzler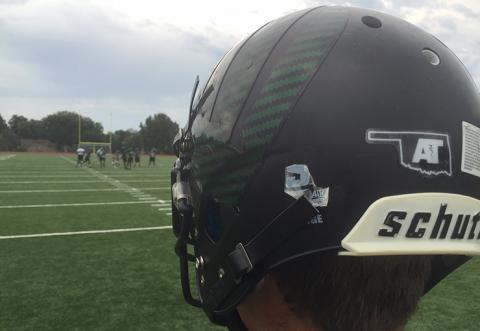 With the final week of the 2018 National Athletic Training Month approaching, now is a great time to think about how you're going to continue to shine a light on the athletic training profession and all that you do through the rest of the year.
Wanting to increase awareness of the role athletic trainers have in sports safety, the Oklahoma Athletic Trainers' Association launched its Safety in Football Campaign during the 2016 football season. Now, with two campaign cycles under its belt, OATA has seen an increase in public engagement both online and through traditional media avenues.   
In 2017, 68 high schools and six universities participated in the campaign, which utilized a multifaceted approach featuring helmet sticker, social media outreach, public service announcements and website resources. During nationally and regionally televised college and high school games, players from participating schools were equipped with the OATA logo helmet stickers, which were provided at no charge. The campaign was also featured in numerous print and television news stories.
Thanks to the Safety in Football Campaign, OATA saw an increase in its website page views – 1,615 page views during the 2017 campaign compared to its 635 page view baseline; Facebook total page likes – 773 total likes during the 2017 campaign compared to its 527 baseline; and Twitter impressions – 31,659 #SafetyinFootball impressions during the 2017 campaign compared to 21,440 #SafetyinFootball impressions during the 2016 campaign.
As for its non-social media reach, the OATA Safety in Football Campaign reached an audience of more than 2.3 million in Oklahoma alone.
The success of OATA's Safety in Football Campaign has encouraged other state associations to hold their own sports safety campaigns. At least five states held their own safety campaigns in 2017, with more continuing to reach out to OATA for insight and assistance.
You can read more about the OATA Safety in Football Campaign in the January 2017 NATA News. Look for more information in an upcoming issue of NATA News.