March 6, 2019 by
Beth Sitzler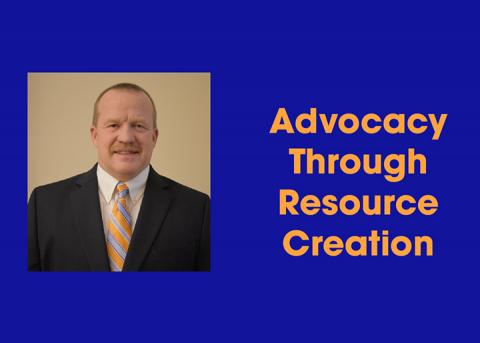 By Kim Diggs
Larry Cooper, MS, LAT, ATC, has retired from Penn-Trafford High School in Pennsylvania as a practicing athletic trainer and instructor, but he is still using his expertise and owning his impact as an athletic trainer. Since retiring, he's contributed to several heavily utilized NATA documents such as the Best Practices Guidelines for Documentation and the Secondary School Value Model. In honor of National Athletic Training Month, Cooper explains how he's been an advocate for athletic training since retirement by contributing to the spread of valuable information.
What inspired you to be an advocate for athletic training?
There are many issues facing our profession, but even more facing the secondary school setting. This was the reason I started my involvement at the local, state, district and national levels. I wanted to make some positive changes for our setting and our profession. Leave things better than you found them type of situation.
What have you created to increase advocacy for the profession?
The Secondary School Value Model, Athletic Training Documentation Best Practices, NATA SSATC/KSI ATLAS Project, NATA Secondary School Sports Medicine Course Outline, Emergency Action Plan Guidelines: Mental Health Emergency in Secondary School Athletes and National Athletic Trainers' Association Position Statement: Facilitating Work-Life Balance in Athletic Training Practice Settings and others.
Why do you feel it is important to advocate for our profession?
I'm passionate about our profession and the value we provide to student athletes, the school and community. I would be remiss if I didn't say "thank you" to all of my co-workers, fellow ATs, administration, school board members and my family for all of their support and guidance along the way. Each one of the ATs I have served with, worked with or met along the way has given me energy, knowledge and ideas, making me a better person, parent, AT, brother and husband.
What was the response from others?
Just like any time there is change, there is resistance. This happened with any initiative that I was involved in. Slowly, people see that you are making these changes for the right reason and not for individual gain, then they can see the benefits of changes.
What was the result?
More tools, advocacy, resources and strategies for the secondary school AT to use in his/her everyday practice and show value to the community, school and administration.
Are the resources able to be repurposed for other ATs looking to accomplish similar goals?
Absolutely! Without a question, everything I have been involved with is able to be used by secondary school ATs at any size school. The tools are also able to be used by any employment method at the secondary school setting.
Which initiatives in Pennsylvania Athletic Trainers' Society, Eastern Athletic Trainers' Association or NATA do you think made the biggest impact?
That is a hard question to answer because I have been involved in so many initiatives, projects, task forces and strategies over my career. Recently, I would say that the ATLAS Project and the Secondary School Value Model have been a huge success from the standpoint of member involvement and buy-in across the country. My involvement with the Secondary School Sports Medicine guidelines was very satisfying because it filled a huge void and helped not only give direction to those asked to teach a course and provide a certain level of consistency across the country, but it also helped increase hiring of ATs in secondary schools. My involvement in the NATA Secondary School Athletic Trainers' Committee was nothing short of phenomenal. So many projects, initiatives and subcommittees, each one of them helped every AT working at the secondary school level.
The next project that is coming real soon has the potential to be an absolute game changer. We have been working on an appropriate care for secondary school aged athletes document, which will have an associated online tool to help members do a self-assessment, provide a document repository and be able to compare that level of athletic health care in a state, NATA district and nationally.
What would you say to any athletic trainer who is unsure of how to advocate for our profession?
Don't be afraid to stick up for something you see will benefit the profession. Try and think globally and not just about your own situation. That is one of the hardest things for people who get involved to hold true to. There are times you will be involved in an initiative or strategy that will not benefit you personally, but will absolutely benefit other ATs across the country, which is something that you should get involved in. It is about the profession and the betterment of others, not about individual or personal gain.
You will benefit from involvement in ways that you never imagined – friendship, knowledge, networking, relationships, experience, exposure to different leadership styles, camaraderie and self-improvement. It is without question the best investment that you can make for your future. Along with these aforementioned benefits, you will also become more confident in your interpersonal skills, leadership style and in your life. These are win-win situations.