March 29, 2019 by
Beth Sitzler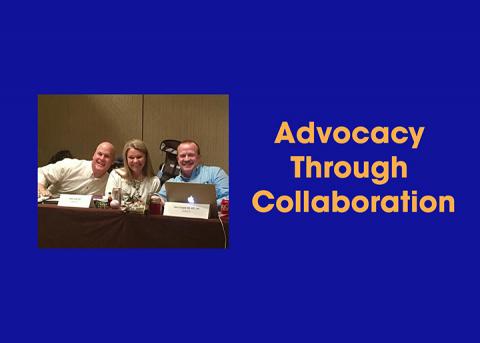 By Kim Diggs
With a career spanning 22 years, Shelly Jones, ATC, has been able to identify gaps in care and resources within athletic training. Through collaboration and desire for change, Jones has helped usher in major shifts in Oregon's standards of care in secondary schools and clinical athletic training while uplifting the next generation of athletic trainers through her work with NATA Secondary School Athletic Trainers' Committee (SSATC).
Early in Jones' career, she became frustrated with the underutilization of athletic trainers in the clinical setting. To encourage a shift, she worked to pass the Athletic Training Practice Act in the state of Oregon in 1999 and, later, worked with Sam Johnson, PhD, ATC, on revisions to the initial bill that would expand the restrictive definition of an athlete to allow ATs to work in settings that don't involve sports.
The bill has passed the Senate with a vote of 28-2 March 26. The Athletic Training Practice Act is now advancing to the House.
Wanting to affect more change, Jones climbed the ranks in the Oregon Athletic Trainers' Society (OATS) until she became president. After completing her tenure and leaving a high school she'd worked at for 16 years, she became the local meeting chair of the Northwest Athletic Trainers' Association in Portland. The executive board encouraged her to apply for the SSATC District Ten representative position after taking a bit of a break.
"It was something I had never really thought about, but I was itching to get involved again," Jones said. "As I reflected on my career thus far, I had always tried to advocate for the entire profession, and this was a unique opportunity to help my friends and colleagues in the secondary school setting directly."
It was around this time that she decided to aid in tackling the misconceptions about concussions head on.
"My frustration with the mishandling of head injuries led to an opportunity to help pass our concussion law," Jones said. "I don't think any of us dreamt that the terms 'concussion protocol' and 'SCAT' would make it into the normal vernacular of not just coaches and athletes, but also their parents and the general public. The days of mishandling concussions due to misinformation are dwindling thanks to the efforts of our profession."
As an OATS member, she's been part of initiatives in conjunction with the Oregon Coaches Association, Oregon School Activities Association and Oregon Athletic Directors Association to encourage further student athlete safety.
Through all of the initiatives that she has been part of, Jones' ultimate goal has been to spread awareness about critical gaps in representation or patient care and better serve the needs of athletic trainers.
"I most looked forward to promoting and disseminating information to our membership," Jones said about her decision to become the District Ten representative for SSATC. "I wanted our committee to be approachable and work hand-in-hand with others while serving the needs of all secondary school athletic trainers."