July 1, 2021 by
Beth Sitzler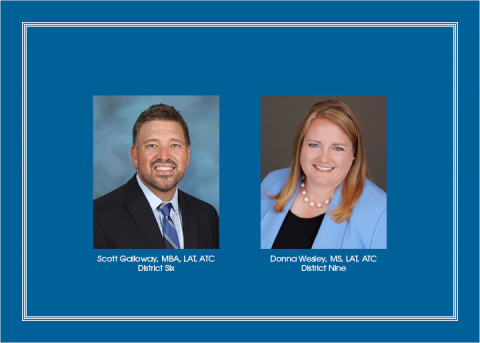 In June, NATA welcomed two new board members: Scott Galloway, MBA, LAT, ATC, representing District Six, and Donna Wesley, MS, LAT, ATC, representing District Nine. In the July NATA News, Galloway and Wesley discuss their goals as new board members. Below they share insight into their athletic training journeys and the importance of volunteerism.
Scott Galloway, MBA, LAT, ATC 
District Six
Why is volunteerism within the profession important to you?
There's an old saying that you will get out of some thing what you put into it. While that seems elementary in nature, I believe this to be true. When our level of investment increases, there is a direct correlation with our perceived rate of return. Within NATA, volunteers are able to truly appreciate the mission and vision of the association, in addition to understanding the great value the staff liaisons bring to our profession.
What drew you to the athletic training profession?
There is no doubt that relationships drew me to the athletic training profession. I can trace these back to my days and high school meeting and interacting with athletic trainers across Texas to my early years of attending District Six meetings as a college student. There was a sense of camaraderie and selfless service that I wanted to be a part of for the rest of my life.
Who has influenced and mentored you in your career?
I am lucky to have laundry list of people who have impacted my life: Billy Pickard, Karl Kapchinski, LAT, ATC, David Weir, LAT, ATC, Michael Ricke, LAT, Saul Luna, LAT, Scott McClatchy, Dennis Hart, LAT, ATC, Jeff Bass, LAT, ATC, OPA-C, Brian Conway, LAT, ATC, Buzz Chisum, MEd, ATC, LAT, Spanky Stephens, Kathy Dieringer, EdD, LAT, ATC, Chris Hall, MA, ATC, LAT, Michael Pruitt, MS, LAT, ATC, Gordon Graham and the list goes on. I think I'm most proud to say I have former students who are now professional colleagues who continue to impact me and remind me of how important relationships are in this profession.
Donna Wesley, MS, LAT, ATC
District Nine
Why is volunteerism within the profession important to you?
Being involved and volunteering provides a unique perspective on activities of committees and associations. Anyone who volunteers gets started by wanting to make a difference. I got started with the Mississippi Athletic Trainers' Association by just being willing to be a candidate for secretary. The "average" member doesn't realize what all goes into an association – the day-to-day work behind the scenes to make things happen, such as the legislative and regulatory issues or planning an educational event. As an AT, we don't have the knowledge and training in association management, but as you become involved, you learn and certain areas spark an interest and you want to learn more and be more involved.
It sounds cliché, but you want to leave the profession better for those entering it than when you came in. Volunteering as a state, district and now NATA Board of Directors member has given me that opportunity. Another reason for volunteering within the association is because of the great relationships that it has afforded me. This profession is full of wonderful, unique and incredible people. Having the opportunity to build relationships with people from around the country and world who are as passionate about the athletic training profession is priceless and something that would not have been possible without volunteering.
What drew you to the athletic training profession?
Like many of my colleagues, I was an athlete in junior high and high school and suffered a knee injury my junior year during volleyball season. I was working with a dual-credentialed AT/PT and he introduced me to the athletic training profession. I was leaning toward something in the medical field and I loved sports, and this was the perfect combination of both. My senior year, I had to do a career-research project and I chose athletic training. After the interviews and research on the educational requirements, I was sold and have not regretted a single day.
Who has influenced and mentored you in your career?
My parents and grandparents have influenced me the most with a strong work ethic, kind and compassionate nature, and instilling a positive attitude. While attending the University of Alabama, I had the pleasure of learning from NATA Hall of Famers Ken Wright, DA, ATC, Bill McDonald, MA, EMT, ATC, Ron Courson, ATC, PT, NRAEMT, R.T. Floyd, ATC, CSCS, and others including Sang Lyda, Bill Whitehill, and Sherry Kimbro, AT Ret. After my time at UA, I accepted a graduate assistant position with the University of Mississippi and was influenced by Leroy Mullins, AT Ret., Lynette (Schwartz) Johnson, AT Ret., Spence Fletcher and Jeff Moore. During my 22 years in Mississippi, I was influenced by NATA Hall of Famer Jim Gallaspy, AT Ret., and others, including Jeff Bryant, MEd, LAT, ATC, Paul Mock, Strat Karatassos, Heather Shirley, PhD, ATC, Troy Armstrong, AT Ret., Chad Barker, ATC, Cert MDT, and so many others.
District Nine is so rich in leadership and having spent more than 15 years being involved with the SEATA Executive Board, I consider so many my mentors: Chuck Kimmel, AT Ret., Bobby Barton, AT Ret., Jerry Rhea, AT Ret., Sue Stanley-Green, MS, LAT, ATC. Floyd, MaryBeth Horodyski, EdD, LAT, ATC, and Marisa Brunett, MS, LAT, ATC.
I have been influenced in some way by every student aide, athletic training students, colleague, co-worker, committee member, board member and staff who I have worked alongside throughout my career. I'm nervous and excited about this new adventure on the NATA Board of Directors and hope I can positively influence the next generation of athletic trainers.