August 9, 2018 by
Beth Sitzler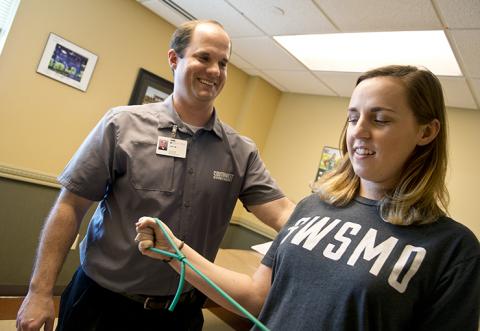 With a greater emphasis placed in recent years on evidence-based medicine and value-based services at reasonable costs, NATA has launched a project to illustrate the value of employing athletic trainers as rehabilitation specialists in the clinical and hospital settings, particularly among the Medicare patient population.
Through the Accountable Care Organization (ACO)/Management Services Organization (MSO) Demonstration Project, NATA will provide funding for a Centers for Medicare and Medicaid Services ACO/MSO to hire an athletic trainer to provide rehabilitative services to patients with musculoskeletal injuries and/or illnesses and collect outcomes data on the efficacy of those AT-provided services.
The ACO/MSO selected for the project will hire the athletic trainer, who will have a minimum of five years clinical rehabilitation experience. During the 24-month collection period, the ATs will be employed by the ACO/MSO full time, with benefits, and will develop, direct and provide rehabilitative services to Medicare patients with musculoskeletal injuries and/or illnesses. Throughout the project, the AT and ACO/MSO will collect outcomes data on all patients receiving treatment and care from the AT using a validated patient outcome survey. Data on patient satisfaction and patient treatment programs, as well as AT productivity – such as hours worked per week and patient visits per week – will also be collected.
The intent is to document the value athletic trainers provide this patient population by presenting scientifically sound and independently published outcome data featuring ATs. Providing such outcomes research is crucial to establishing the AT's place in health care. Through outcomes research, clinicians and patients receive evidence about the benefits, risks and results of preventative, diagnostic and treatment interventions, which allows for more informed decision-making. From the health care managers and purchasers' perspective, outcomes research can identify potentially effective strategies that can improve the quality of care, thereby fostering faster recovery and reducing complications and health care costs.  
Ultimately, the project aims to show that despite being underutilized as rehabilitation specialists in the clinical and hospital settings, athletic trainers have the skillset to provide value-based services at a reasonable cost to the health care organization.
NATA is currently seeking proposals from interested ACO/MSO participants. All proposals are due Nov. 1st. The project's ACO/MSO will be selected and announced no later than Nov. 12th, with the AT seeing his/her first patients Jan. 1, 2019. If you know a colleague at an ACO/MSO who would be interested in participating in the ACO/MSO Demonstration Project, direct them to the project's full RFP.