June 24, 2016 by
Beth Sitzler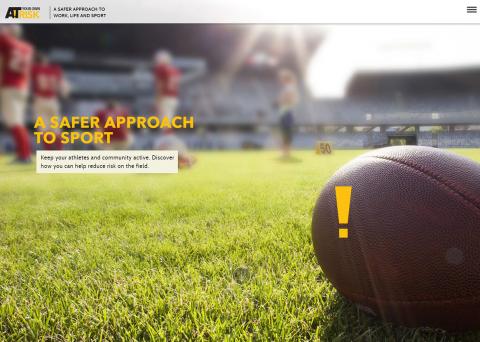 As NATA President Scott Sailor, EdD, ATC, addressed the crowd during the NATA General Session and Annual Members' Meeting, Friday in Baltimore Convention Center, Swing Hall, he announced that the association will launch a new public website, www.atyourownrisk.org, to better communicate the role of athletic trainers in work, life and sport.
AtYourOwnRisk.org was created in an effort to advocate for athletic trainers by influencing public opinion and policy – one of NATA's primary strategic objectives. This public awareness campaign aims to educate key stakeholders on the athletic trainer's role as an expert in prevention and safety. The campaign also hopes to create ambassadors for the athletic training profession and for causes championed by athletic trainers. Key stakeholders will be provided clear ways they can get involved to impact change and improve safety for work, life and sport.
"We know that athletic trainers work in many different settings and impact a wide variety of patients," Sailor said. "Because of this, we are launching this campaign in phases in order to strategically communicate with each audience. What is important to a school administrator isn't the same as what is important to a fortune 500 company. Therefore, this tiered approach allows us to speak to each key stakeholder group in terms that matter to them."
Sailor added that finding from the 2015 CATCH ON study show that 37 percent of public high schools have a full-time athletic trainer.
"Because of this, we will kick-off the campaign educating key stakeholders in the secondary school setting, including parents, athletic directors, principals and legislators," he said.
Over the next three years, the initiative will roll out to other key employment opportunities that exist for athletic trainers in occupational health, the military and untapped areas at the collegiate level. The common denominator for each target group of stakeholders is risk – risk of injury, lawsuit, lost profit and more. Athletic trainers play a sustainable role in risk mitigation, and can help prevent injuries, reduce liability and improve productivity.
"Athletic trainers offer a safer approach to work, life and sport," Sailor said.
After a short video further describing AtYourOwnRisk.org, Sailor encouraged the audience to help share the news about the new website and campaigns.
"There are tools and resources online for how you can adopt and promote this campaign at the local, state and district level," he said.
As attendees existed Swing Hall, they picked up AtYourOwnRisk.org bumper stickers to help spread the word about the important roles athletic trainers play.