April 13, 2017 by
Beth Sitzler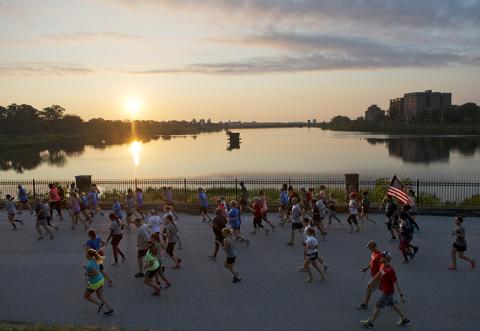 A staple of the NATA Clinical Symposia & AT Expo, the NATA Research & Education Foundation 5K Fueled by Gatorade will take place this year at 6 a.m. June 29 during NATA 2017 in Houston. Not only is this a great opportunity to get outdoors and be active, it's also your chance to give back to the NATA Foundation and support it's many initiatives.
The work conducted by the NATA Foundation impacts all athletic trainers. Research and education are essential to the advancement of the profession. Since its inception, the NATA Foundation has funded 260 grants, totaling more than $4 million; awarded scholarships to more than 1,550 students, equaling $3.1 million; and provided approximately 5,000 presentations through the Free Communications Program. Fundraising efforts such as the 5K are essential to the continued work and success of the NATA Foundation. The 2016 5K alone raised more than $7,000 thanks to its 400-plus registrants.
This year, the NATA Foundation is offering incentive prizes for fundraising participants. This week, the NATA Foundation will award an Amazon gift card to someone who sets up a new fundraising page and raises a minimum of $25 by midnight April 14. In addition, incentive prizes will be awarded to fundraisers based on their cumulative fundraising total. Prizes range from an NATA Foundation water bottle to an NATA Foundation backpack.
If you're unable to attend the 5K or the NATA convention, you can still help with the fundraising efforts and still qualify for the fundraising incentive prizes.
Create your personal fundraising page for free at donate.natafoundation.org/campaign/2017-nata-foundation-5k/c102007. There, you can learn more about the NATA Foundation and its initiatives as well as scope out your fellow fundraisers and view the fundraising leaderboard. There is also a campaign activity section that allows you to leave comments and see the latest donations.