June 28, 2017 by
Beth Sitzler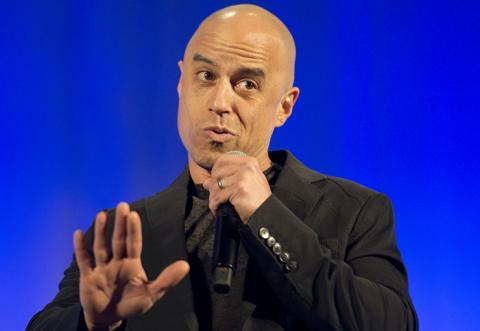 Dr. Zubin Damania felt a call to medicine—as well as a call to the standup stage. The doctor-comedian, known as ZDoggMD, shared his laugh-inducing journey from frustrated internist to YouTube sensation and proponent of "Health 3.0" during the 2017 NATA Keynote sponsored by Cramer Wednesday, June 28, in the George R. Brown Convention Center.
Damania grew up on the East Coast until his parents, both in the medical field and immigrants from India, moved the family to Clovis, California, a rural community very different from his previous home.
"I was a very advanced kid—I had childhood obesity before it was cool," he said, adding that he was an unathletic kid living in a sports-oriented community. Being different sometimes drew unwanted attention to Damania, but he was able to win his fellow students over with his "abilities." "I had the ability to ready minds—also known as empathy. So I could feel what someone else was feeling and I would use my second gift—humor—to help them."
As a kid, he wanted to be like his dad—but he also wanted to be like Weird Al Yankovic. While visiting his father's clinic, he saw firsthand what he called "Health 1.0"—the not-so-good golden age when doctors connected to their patients, but there was also unfettered clinician autonomy and high costs, among other issues. Still, Damania admired his father's intimate relationship with his patients.
"He knew about their families. He know all their kids' names—he even knew the cat," Damania said about his father. "I fell in love with that connection and I felt a calling to it."
When he told his dad this, he told Damania that this way of doing things was dying and that medicine was moving in a new direction. Not feeling deterred, Damania continued to pursue his calling and attended medical school.
"I graduated during the emergence of 'Health 2.0,'" he said, comparing medicine to a machine and health care providers to cogs in a wheel. This new system eliminated the ability to make those connections he so valued.
He worked at Stanford as an internist for 10 years. Feeling like he wasn't making a difference in his patients' lives, he became dissatisfied with his calling.
"I did everything right and I still felt burned out," he said. "This is a calling that has found us. Every day we get to be with people at their most vulnerable and they allow us the privilege. … But I realized it went from a calling to counting the days until retirement."
At the encouragement of his wife, he read "Happiness Hypothesis" by Jonathan Haidt and it changed his life.
"I thought, this wasn't my calling anymore and I need to make it my calling," he said.
He created the persona ZDoggMD and began posting videos on YouTube—"YouTube was this thing that you didn't need talent to do," he said. Following in the footsteps of Weird Al, Damania created satirical music videos to educate the public about health issues, such as blood platelets, testicular cancer awareness, opioid abuse and Ebola—channeling FlowRida, Taylor Swift, Michael Jackson and others along the way.
"I was re-energized. It became a huge thing," he said.
With his YouTube videos a hit, Damania soon had a following of 600,000 health care providers, who have dubbed themselves the "Z-pak." Damania said Stanford didn't know about his foray into YouTube—until he was featured on the news. Because of all the attention he was receiving, Damania was approached by Tony Hsieh, the CEO of Zappos.com, with an offer to start his the health care facility he envisioned in Las Vegas.
He accepted the opportunity and created Turntable Health, which follows "Health 3.0"—team-based health care that is about connections and partnering with the patient.  
"It's a sacred thing to be called to be a healer," Damania said. "That concept and collaboration that puts the patient at the center is better for everyone. You guys [athletic trainer] have been doing this for decades."
See more from the 2017 NATA Keynote and General Session on the NATA Vimeo page.