August 31, 2021 by
Beth Sitzler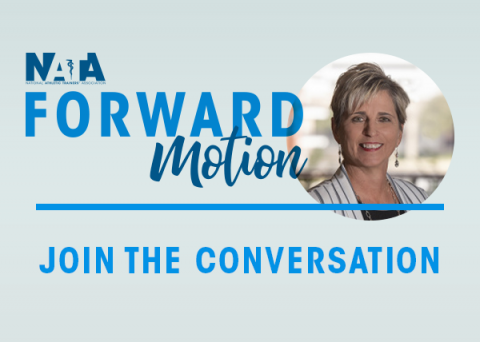 Starting this fall, members are invited to attend NATA Forward Motion, a new 30-minute live quarterly conversation with NATA President Kathy Dieringer, EdD, LAT, ATC, scheduled to begin at 11 a.m. CDT Sept. 9.
Each quarter during NATA Forward Motion, Dieringer will share updates, provide insight into various strategic initiatives and address timely topics of importance to members.
"We are focused, especially as we continue to wade through the COVID-19 pandemic, on ensuring all athletic trainers have a seat at the table, that their value is understood by all and that they have a say in where we, collectively as an association, are headed," Dieringer said.
The goal of NATA Forward Motion, an exclusive, members-only event, is to provide attendees a peek behind the curtain. Not only will members hear directly from Dieringer, they will have the opportunity to ask questions and provide feedback.  
"Moving Forward Together is best achieved when we're all informed and understand how our collective investment contributes to the advancement of our profession," Dieringer said. "It also requires each of us to do our part individually – embracing innovation, collaboration and optimism as we execute on our mission as members of NATA."
NATA Forward Motion will be limited to 300 attendees for the live event and is first come, first served. Once the live event is full, NATA will provide an overview space to ensure that all registered members are able to attend the events or view on-demand at a time that works best for them. Visit the NATA Forward Motion webpage to register, learn more and see what topics Dieringer will discuss each quarter.