February 1, 2023 by
Beth Sitzler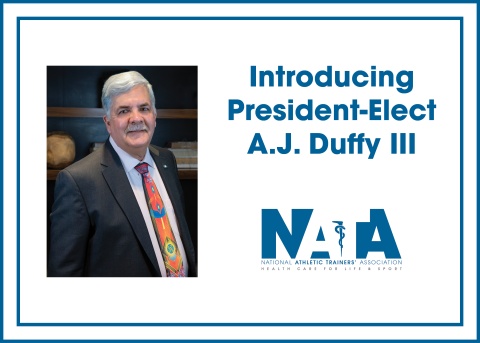 In early January, A.J. Duffy III, MS, ATC, PT, was announced at NATA's president-elect. Read the January NATA News for more information about the NATA presidential candidate selection process, and keep reading to learn more about Duffy.
A.J. Duffy III, MS, ATC, PT, is the dean of athletic trainers in the Middle Atlantic Conference (MAC). This is his 33rd year as Widener University's head athletic trainer and physical therapist and 41st in intercollegiate athletics. Along with his assistants and in collaboration with student health services and the counseling center, they provide medical care for the 600 Pride student athletes.
Duffy has been active in the profession, serving in various elected and appointed positions at all levels. For the Michigan Athletic Trainers' Society, he served as its state liaison officer and co-chair of the MATS Hall of Fame Committee. For the Pennsylvania Athletic Trainers' Society, he served as secretary, past president, PATS Hall of Fame Committee chair and PATS Education Committee member. For the Eastern Athletic Trainers' Association, he chaired the EATA Exhibit & Sponsorship Committees and is a past president. He has been a member of the NATA Convention Planning, Ethics and International committees. Duffy served as the District Two treasurer and is a past director. He recently served on the NATA Research & Education Foundation Board of Directors. In addition, he served as the chair for the MAC's athletic training committee.
Duffy, along with his assistants, created the "MAC ATtaCk on Hunger" in 2010. The initiative was instituted to combat food insecurities involving all member schools of MAC, by collecting food and money for each school's local food banks.
Prior to Widener, Duffy served as an assistant athletic trainer and physical therapist at the University of Michigan and an assistant athletic trainer at Temple University. He served as an adjunct lecturer for 25 years in Temple's CAATE-approved athletic training program. He earned his bachelor's degree from the University of Michigan, his master's degree from the University of Arizona and his physical therapy certificate from Drexel University.
Duffy is a member of NATA, EATA, PATS and the Norwood (Pennsylvania) 4th of July Association.