February 6, 2023 by
Beth Sitzler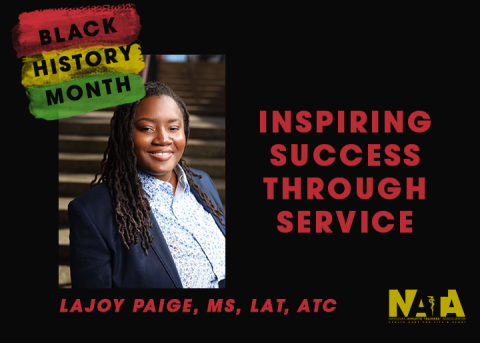 In honor of Black History Month, NATA is highlighting some of our Black leaders at the state, district and national levels and shares insight into their volunteer journeys. 
Mississippi Athletic Trainers' Association Career Advancement Committee Chair LaJoy Paige, MS, LAT, ATC, always knew she would choose a career related to health care.
Intrigued by how ATs treated their athletes and the profession's direct impact on them, Paige said she decided to pursue athletic training.
Paige developed a relationship with her 10th grade AT, participated in athletic training workshops at Mississippi Sports Medicine and now leads the charge in her current leadership roles. She has not only been an ardent champion of the profession, but has also fostered her own career growth in the secondary school setting.
"I am so grateful for the ATs who paved the way for me from high school until now," she said.
Paige has advocated for the career development of her peers as well as the younger AT generation as not only the MATA CAC chair, but also the Southeast Athletic Trainers' Association Secondary School Committee chair and the NATA Secondary School Committee District Nine representative.
Keep reading to learn more about her leadership development and impact.
What was your first volunteer position within the athletic training profession and why did you get involved?
My first volunteer position was as the MATA Young Professionals Committee chair. I got involved because I wanted to be a voice for our young professionals in the state and I wanted to serve in whatever capacity my state association needed me to. I wanted our young professionals to utilize their skills and resources and be active in community service events, mentorship and raising awareness of our profession in our state.
Tell us about your current position as the Mississippi Athletic Trainers' Association Career Advancement Committee chair and what you hope to accomplish in this role.
My current position as the MATA CAC chair is one that was derived from the former YPC. It includes ATs who are in their seventh to 12th years of initial certification. This position is one that has allowed me to become more understanding of the personal and professional concerns of ATs in that certification window and address issues they have faced and are facing daily. I hope to continue curating a forum for MATA CAC members to discuss ways to feel comfortable making changes in one's career and be happy doing so. Not only that, but also to do so while maintaining work-life balance so that burnout isn't an immediate topic.
How has volunteering helped you grow personally and professionally?
Volunteering has fed a hunger I developed professionally. As a student and progressing to a young professional, I knew volunteering was a way to network and give back to my profession. Developing personal relationships and being a part of something greater than myself are ways that volunteering has aided me in growing personally.
Why is representation in leadership important and how does it impact the profession?
Representation in leadership is important for a few reasons. "You can't be what you can't see" has been a quote that has resonated with me for a while. A positive outlook is a probable outcome of visually seeing representation in leadership. You never know who looks up to you or who is watching. Many times, one doesn't apply for leadership opportunities because they've never seen someone like them in those positions. The profession is impacted in a positive way due to this. ATs are applying and utilizing the representation they've seen to become an asset in leadership roles and in our profession as a whole.
Why should ATs get involved in leadership and service?
Becoming involved in leadership shows that you want to be part of change. Being able to lead by serving is a huge aspect of leadership. Inspiration can be seen through service. Hopefully, ATs can see leadership and service as an opportunity to be a voice and a hand in advocating for our profession and for ourselves!
What advice do you have for other athletic trainers who want to give back to the profession? 
The time is now. It is never too early to give back to our profession. We are the future of athletic training — let's do what we can to keep our profession flourishing.