February 26, 2019 by
Beth Sitzler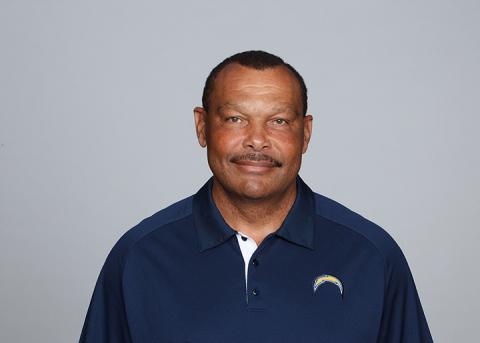 By Kim Diggs
The roads that lead to athletic training are varied. James Collins, ATC, president of the Professional Football Athletic Trainers Society (PFATS) and director of football and medical services for the Los Angeles Chargers, found his way as an athletic trainer after a full career in the U.S. Navy.  
He spoke about his journey in a video posted to the Department of Defense website.
"I felt honored and flattered at the same time," said Collins about his appearance in the video. "I have always tried to stay out of the spotlight, just felt that it was for the players and not for those of us who help them prepare for performing. But, based on the reason for the video, I felt it time for me to step up and help others who might be interested in the profession of athletic training to get informed and know that, no matter the circumstance, there is a path to take to realize your dream."
Collins knew he wanted to be an athletic trainer before he even entered high school. When he would watch the NBA and see the ATs on the sidelines treating players, he wanted to know who they were. In the DoD video, Collins said he wanted to become an athletic trainer, but was completely lost on how to make that happen. So, he dropped out of college and joined the Navy. After applying to work in aviation physiology, the Navy stationed him in San Diego. Though he was in a completely different career, he still couldn't shake his desire to be an AT. While he was still serving, he made an appointment to speak with athletic trainer Robert Moore at San Diego State. After Moore told Collins the program was closed, he decided to stay in the Navy until he retired in November 1984.
Though he was retired, he still had a desire to try to get into the AT program at San Diego State. He met with Moore one more time and explained he had just served in the Navy. His veteran status was the key that granted him a spot in the program.
Collins said had he stopped pursuing his dream after a full career in the military, he would not be where he is today. That is part of the reason he is so adamant about the importance of athletic trainers sharing their stories. One conversation or a little guidance can change the course of a person's life.
"By sharing our stories, it gives others the motivation to continue with their journey to be an athletic trainer," Collins said. "It also lets them know that, no matter what the circumstances are or where you came from, you can still make your dream come true."
Over the years, Collins worked for several NFL teams, spending five seasons with the Denver Broncos starting in 1991 and with the Philadelphia Eagles from 1996 to 1998 before returning to the, now, Los Angeles Chargers in 1999, the team he still works for to this day.
Collins recounts his more than 20 years of experience with athletic trainers and athletic trainers-to-be whenever he can. He's gotten more opportunities to speak in front of young adults since becoming president of PFATS in February 2017.
Collins encourages other ATs to speak in front of audiences, when possible, and be active in their communities. Engaging patients to spread awareness about what ATs do, especially in the secondary school setting, can make a difference in the narrative about what an AT is, Collins said.
"Getting the word out within our communities, starting with the parents of the athletes in sports at a younger age, will help to promote the value of athletic trainers and their knowledge and expertise as the youth go into the upper level sports," he said.
Collins' story is a testament to how important it is for ATs to be vocal about their journeys when given the opportunity. It's one of the fuels of public perception and recruiting.