February 16, 2017 by
Beth Sitzler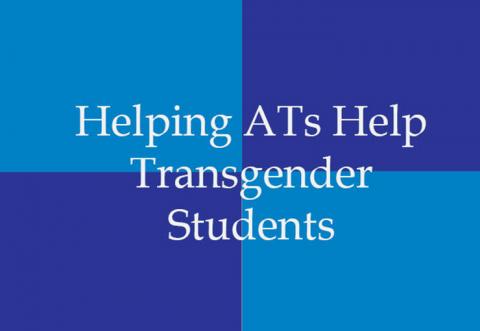 By Stacey Ritter, MS, ATC and Dale Grooms, ATC
Transgender and gender identification have gained increased public awareness, however there is still a lack of education and understanding of the challenges those in the lesbian, bisexual, gay, transgender, queer (LGBTQ) community face. As adolescents begin to understand their own identity, those who work in the secondary school setting are in a unique position to make an impact on these young people. With proper education, tools and resources, we can ensure that the impact during a particularly turbulent time is a positive one.
More likely than not, an athletic trainer in the secondary school setting at some point will encounter a student who is on this journey. Perhaps the student athlete is in the process of accepting and living as their gender identity, using hormone therapy or pursuing sex reassignment surgery. Whatever the situation, these topics need to be discussed and shared within the secondary school setting to assist ATs in being in the best position to support the student athlete and create a safe environment to seek care.
Seventy percent of transgender patients feel they face health care discrimination, according to Lambda Legal, a civil rights organization for the LGBTQ community. The discrimination ranges from the medical practitioner who refuses to provide care or physical contact, become accusative of their health issues or were simply physically abusive. This discrimination may occur without the practitioner realizing their behavior is offensive. NATA's Code of Ethics states: "Members shall practice with compassion, respecting the rights, welfare and dignity of others". Additionally, in section 1.1: "Members shall render quality patient care regardless of the patient's race, religion, age, sex, ethnic or national origin, disability, health status, socioeconomic status, sexual orientation or gender identity." These guidelines are in place protect the rights of our patients, and also serve as a reminder for ATs to reflect on how their own personal beliefs influence their clinical practice. Above all, the AT must not be judgmental or editorialize, either directly or indirectly.
How do we create a practice setting that is transgender friendly? Something as simple as a sign or symbol posted in the athletic training facility can communicate that it is a safe environment for members of the LGBTQ community. A transgender student athlete suggested a posting a photo of a popular LGBTQ celebrity, a "Love Conquers Hate" sign or even a yellow equal sign centered in the middle of a blue square. For something more obvious, Gay Alliance and Safe Zone Project also offer free resources for facility use.
Once a comfortable environment has been established, taking a sensitive approach toward physical examinations is also crucial. Body image issues are significantly greater in the transgender community than the rest of the population. Take a moment to imagine having the physical anatomy of the opposite sex, while still having your current gender identity. Transgender athletes may have disassociation or detachment from anatomical features and structures that do not match their gender identity. It can even be a less obvious difference, such as a female-to-male transgender student's distress over the appearance of his genetically wider hips. Or a male-to-female teen, who sees she has recently developed an Adam's apple. Understanding that they feel as though they are in a body that does not belong to them, it is best for the AT to describe the process beforehand, and then ask if the student is comfortable with whatever physical contact is necessary for the AT to perform evaluations or rehabilitation.
During an acute or sideline assessment, it is important to be aware that transgender students might use methods of masking their anatomy. For those who are transitioning from female to male, many are binding their chest. Those transitioning from male to female could be tucking/taping their genitals to be less visible. These techniques may or may not be directly related to an injury or evaluation, but being aware can help prevent the AT from inadvertently reacting in an unfavorable way.
The most harmful and destructive thing an AT can do when interacting with a transgender student is to disregard the student's identified gender; regardless of anatomy, if a biological male identifies as female, then she must be treated as such. Using female pronouns, her requested choice of name and holding her to only those expectations other females are held to will facilitate an inclusive experience. Specific to sports participation, the bottom line is that ATs protect the health and safety of all athletes, and take whatever necessary steps to ensure we are preventing and appropriately caring for injuries. If the locker room is not a safe environment for the student athlete, it should be addressed immediately with school administration.
Lastly, the student's privacy is of utmost importance. According to the Transgender Law and Policy Institute, an athlete's transgender status is confidential medical information. Therefore, it is not permissible or legal for this status to be communicated to anyone without the written permission of the family. For more information on this, and other considerations for health care providers, the Center of Excellence for Transgender Health at UCSF Medical Center's website has additional resources and information.