March 11, 2021 by
Beth Sitzler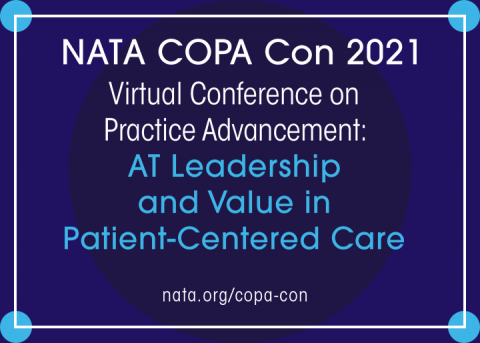 After years of discussion and brainstorming, the NATA Council on Practice Advancement will hold the first-ever NATA COPA Con 2021 Virtual Conference on Practice Advancement live from 2 to 6 p.m. CST March 26 and from 10 a.m. to 1 p.m. CST March 27, and on-demand through April 27.
Focusing on the physician practice and health care administration settings, the goal of COPA Con 2021 is to shape attendees into better leaders in the clinic and hospital spaces and provide them with strategies to better showcase their value to employers.
"We specifically designed the programming to be advanced-level content," said COPA Education Chair Tiffany McGuffin, MS, ATC, LAT.
For years, COPA has successfully conducted preconference workshops before the NATA Clinical Symposia & AT Expo that provided attendees with entry-level education on a variety of settings. Wanting to take these efforts a step further, COPA sought to assist members as they climb the ladder in their setting through advanced education that focused on their needs and the value they bring to patient-centered care. To better understand these needs, the council surveyed the NATA membership and used the results to drive content.
"The COPA leadership, as members, and the information provided to us through the survey, highlighted this need for this advanced-level content," McGuffin said. "There is a fair-amount of entry-level content for those looking to transition to our settings, but we designed this conference for those currently working in these settings."
In addition to providing members the content they want, COPA also wanted to meet members where they are and allow them to learn on their own schedules. By being virtual, COPA Con 2021 allows attendees to consume content at their own pace, from anywhere. The live event will feature no more than four hours of content per day, with Friday evening and Saturday morning selected to better accommodate the busy work schedules of ATs in these settings. The on-demand content will also allow COPA Con 2021 attendees to catch up on content they missed live or rewatch any part of the conference at their convenience.
"One session I am looking most forward to is the Leadership Keynote," McGuffin said. "'Leadership' was by far the biggest word in our word bubble generated from the survey, and we secured a fantastic speaker, Christina Sciascia, who has intimate knowledge of both ATs and servant leadership. Listening to her passion for her job and her passion for developing leaders, not managers, is the very thing our membership wants."
Attendees also will have access to the COPA Con community on Gather. Through the community, attendees can network and connect to their fellow athletic trainers in the physician practice and health care administration settings.
COPA Con 2021 attendees can earn up to 11.5 Category A CEUs. Review the Preliminary Program to learn more about the educational content offered during COPA Con 2021.
Registration for COPA Con 2021 is open. Early bird pricing, available now through March 25, is $125 for members and $425 for nonmembers. Regular pricing through April 27 is $200 for members and $500 for nonmembers.