August 22, 2016 by
Beth Sitzler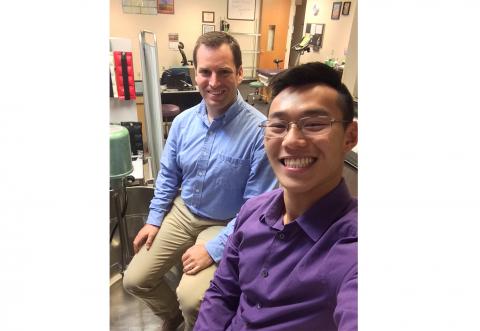 By Aaron Ngor, ATC
I consider myself lucky that I was able to find my passions early on. By passions I mean my love for hip-hop dance and medicine.
When I entered the athletic training program at Chapman University, I had an initial fear of how to balance my responsibilities as a competitive dancer and athletic training student. Not many people can relate when you attend your 8 a.m. class with only four hours of sleep because a late night rehearsal. Over time, I began to view dance with a sports medicine perspective, which made me believe I could incorporate what I learned in the classroom to what I do on the dance floor. My interest in athletic trainers working in the performing arts setting suddenly grew. From there, I expressed interest in dance medicine research to my faculty and began participating in local dance medicine conferences. Even with all this newfound knowledge, my true desire was to gain clinical hands-on experience with performing artists.
Since Chapman currently did not have a clinical site for working with performing artists, I had to look abroad for potential opportunities. During a meeting with my clinical professor, Dr. Sara Nottingham, EdD, ATC, we brainstormed how I could obtain these types of clinical experiences. I continued my search online and spent the next few weeks exchanging emails with various programs across the country to determine if I could make any of them a viable option for me. By the spring of 2015, a clinical affiliation was made between Chapman and University of North Carolina School of the Arts. My flight was booked and I was ready to take on my new clinical rotation within a week of my phone interview!
Having come from an undergraduate program, understanding the true lifestyle practices of a full-time athletic trainer is almost impossible. However, the UNCSA summer internship allowed me to channel my time and energy toward developing my clinical expertise with dance-related injuries, under a 40-hour work week timeframe. I was able to follow up with my patients and work with them through their initial injuries until their shining moments on stage. On top of the rewarding clinical work, I had a wonderful time exploring the city of Winston-Salem with my newfound friends and preceptor. For my fellow food connoisseurs reading this, I recommend trying the Lexington-style barbecue at Little Richards and the famous fast food from Cook Out!
When it was time to return to California, I left with a sense of independence and personal accomplishment. Every student needs to know they are capable of transforming themselves into the clinician they desire to be. I know I am one step closer to that goal.  With that being said, I strongly believe students should take advantage of these emerging setting opportunities as a way to further develop their cultural competency and professional communication skills, along with their individual clinical abilities.
I consider myself lucky that I was able to find my passions early on. My past experiences working with dancers have empowered and given me a sense of purpose regarding my pursuit in the field of athletic training. My hopes and dreams are to pioneer reform in the way performers receive health care services and interact with health care professionals. I look forward to addressing the needs of the underserved dance community population through sports medicine education and accessibility to an athletic trainer familiar with current dance medicine practices.
 Aaron successfully passed the Board of Certification exam this year, and is continuing his education at Ohio University by pursuing a master's degree in athletic training as a graduate assistant working in the SHAPe Clinic, directed by Committee on Practice Advancement Performing Arts Medicine member Dr. Jeffery Russell, PhD, ATC.
Photo caption: David Wilkenfeld MS, LAT, ATC, and Aaron Ngor, ATC, enjoy some down time in the cold whirlpool.