March 1, 2019 by
Beth Sitzler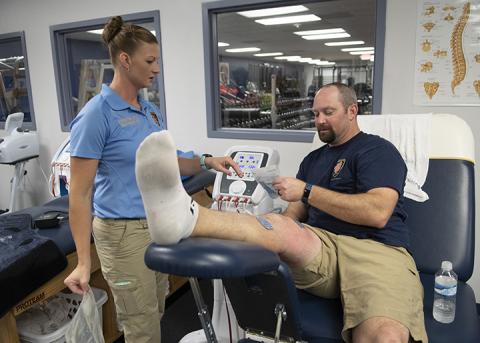 San Antonio firefighter Tim Worley knew something was wrong as soon as he heard the pop.
The 16-year San Antonio Fire Department veteran was playing with his dog when he stumbled backwards, twisting his leg and causing a loud pop from his knee.
"He actually came in and told me he thought he tore his [anterior cruciate ligament]. I did an assessment and said I agreed," said SAFD athletic trainer Deena Kilpatrick, MS, LAT, ATC.
Realizing that further assessment – and possibly surgery – was needed, Kilpatrick used her orthopedic connects to get Worley seen by Dr. David Schmidt, a local orthopedic surgeon and team physician for the NBA San Antonio Spurs.
"He saw him immediately and did an MRI," said Kilpatrick, adding that after the MRI showed the extent of Worley's injury, surgery was scheduled for the next day.
"She and my surgeon worked together," Worley said. "She was even present during my surgery. … It was nice to have a surgeon who had an open line of communication with my athletic trainer. If something [went] wrong, she can call him and they [could] work together. So, it was helpful to know that, one, I'm seeing a great surgeon and, two, they have great confidence in my athletic trainer."
Worley went under the knife Aug. 24, 2018. Five days later, he went to the SAFD's athletic training facility to see Kilpatrick.
"At that point, we did a little bit of wound care to check his incision, and some ice and elevation to try to get some of the swelling down," Kilpatrick said. "[At that time, we also] began of some range of motion exercises to get his range of motion going as quickly as possible."
Kilpatrick said she took Worley through the normal ALC rehabilitation phases, focusing on range of motion and strengthening, but remained mindful of the physical requirements of his job.
"[The physical demands] differ slightly if you're talking about EMS versus a firefighter, which Tim had just gone back to the field as a firefighter," Kilpatrick said. "So in terms of functional exercises, it changed things just a little bit to ensure he would be capable of doing what he needed to do on the job."
Along with strengthening exercises, Kilpatrick and Worley incorporated pushing and pulling movements into the rehabilitation process to mimic his everyday firefighting tasks.
"[Firefighters] have to be able to drag the hose if they're on the fire ground, so things like pushing the sled, pulling the sled," Kilpatrick said. "He also did a lot of lunges along with that to strengthen his hamstrings."
Twisting exercise also were important to Worley's routine.
"Tim is also a golfer, so that activity was important to him and his daily life, so we did things to help facilitate and make sure that was going to be something he could [get back to] rather quickly," Kilpatrick said.
Worley visited Kilpatrick for rehabilitation on average three times a week, spending two hours in the SAFD athletic training facility each visit. His hard work and dedication paid off: Right before Christmas, about four and a half months after ACL reconstruction surgery, Worley was cleared to return to work.
"He's doing well," Kilpatrick said. "I still check in on him. He's back to work and back to working out with his crew at the station. He hasn't had any issues."
Seeing Worley return to the profession to which he has dedicated himself has been rewarding, Kilpatrick said.
"To see someone get back to what they are doing and enjoying life again, whether it's the job or the activities that they like, that is the most fulfilling part of the job to me," she said.  
Since joining SAFD in 2015 – first as a contactor and then as a full-time employee in 2018 – Kilpatrick has used her athletic training skillset to improve the lives of the department's 1,800 firefighters.
"This athletic training facility and our athletic trainer are the greatest assets our fire department has," Worley said.
You can read more about Kilpatrick and her position with SAFD in the March NATA News cover article "Caring for Those Who Care for Others."