May 28, 2019 by
Beth Sitzler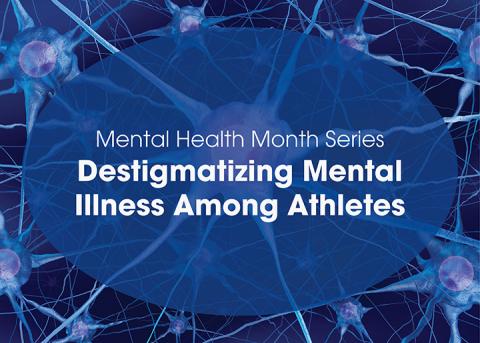 By Kim Diggs
In honor of Mental Health Month, NATA is conducting a mental health blog series throughout May to examine different facets of this topic and how they impact athletic trainers and their patients. This post focuses on an initiative created by a student athlete and her athletic trainer to destigmatize mental health care in student athletes at Sacred Heart University.
Hockey was her life; but after four knee surgeries, Devan Kane, then hockey player at Sacred Heart University, was unsure she'd ever be able to play again. This realization led her to spiral into a deep depression, so deep that she, eventually, had suicidal thoughts. But, in 2017, with the help of her athletic trainer, Casey Quinn, MS, LAT, ATC, Kane was able to seek professional help for her depression, return to hockey and create an organization that encourages mental health in sport – Heart to Heart;.
The semicolon in the name represents suicide prevention, a symbol chosen by Amy Bleuel, creator of Project Semicolon, to show that there doesn't have to be an end to life, as a semicolon isn't the end of a sentence.
In the planning stages of Heart to Heart;, Kane looked to other universities to see if any mental health initiatives were created on other campuses.
"The one thing I saw on Twitter one day was the organization originated at St. Michaels College called 'Hope Happens Here,'" Kane said. "That sparked the idea, but the name, branding, ideas and events we ran for Heart to Heart; came from the business proposal Casey and I created when bringing this idea to administration and then having a group of athletes actually get together and execute."
In preparing to create this organization, they searched for credible resources on assessing mental illness in athletes and viable suicide prevention tactics.
"I read a lot of the NCAA handbook on mental health and surveyed the entire athlete population," Kane said.
Kane sent the survey to approximately 900 student athletes from 32 sports. Of the 380 responses she received, 60 percent revealed that they or an athlete they had a close relationship with struggled with their mental health.
This further strengthened the drive and passion for Heart to Heart; because, if executed well, it would bring attention to a problem among SHU's student athletes – they were too ashamed to talk about their struggles with mental health.
"I think the whole mentality in sports for as long as people can remember in relation to injuries has been to 'rub some dirt on it' or 'skate it off,' so, naturally, athletes growing up in this environment must think the same thing when it comes to their mental health related illnesses," Quinn said. "It hasn't been until recently that professional athletes have been opening up about their battles with mental health illnesses. If there has never been conversation about it, athletes see that and it only furthers the stigma, making it more difficult to admit and open up."
To inspire the student athlete population, Kane and Quinn knew they would need the backing of the athletic department. So, with the support of Quinn and Kane's hockey coaches, Tom O'Malley and Katherine Pauletti, Kane stood in front of SHU administrators, the athletics department and members of the wellness center and shared her story – from depression and self-harm to seeking professional assistance and working with Quinn on Heart to Heart;.
"I think Devan's involvement in Heart to Heart; has given people hope," Quinn said. "There is a new found sense of community within athletics, as everyone shows their support wearing the lime green bracelets that we have had made up. I think the whole athletic community, including coaches, support staff, administration and athletes, now believes that it truly is OK to not be OK and are willing to have the right conversations to help better the mental health of our student athletes."
To inspire involvement among student athletes, green wrist bands were created that say "SHUt Down the Stigma." This color is often associated with the Green Ribbon Campaign, an initiative to raise awareness about mental illness.
In the beginning, only a few teams were involved in Heart to Heart;, but, as time went on, athletes in various sports joined the movement to assist with campaigns and events held on campus.
Heart to Heart; capitalized on the popularity of sporting events to raise awareness by getting the players to customize their equipment or uniforms to include the color green in support of the organization.
One of the campaigns Heart to Heart; created was the "I Fight For" campaign in which athletes and department staff members were asked to hold up a sign signifying what they fight for in respect to Heart to Heart;.
They've also held fundraisers, hosted events and gotten special jerseys made for the women's hockey team to encourage students and faculty to "SHUt down the stigma."
An alliance between the athletic department and the wellness center was strengthened over the past several years from the mental health liaison at SHU, Kaitlyn Marrie MS, ATC, LAT. There is now protocol in place to assist athletes with finding help in the wellness center when it is needed. 
Though the organization worked to destigmatize the discussion about mental illnesses, the importance of having someone dedicated to provide help to those student athletes needing help was also of utmost importance. This year, the athletics department and wellness center accomplished that goal by gaining a dedicated counselor for the athletic department.
Looking back, the two express they were unsure where their efforts would lead them, but were both clear that they were being guided by a greater purpose – the fight to encourage healthy conversation about the psychological effects of loss and injury in athletes.
"We really wanted to start a conversation about the topic of mental health and let others know that it isn't something that is going to go away if you just ignore it," Quinn said.
Though Kane just graduated, she aims to make sure the organization continues to grow and she hopes other college athletic departments create the space to open up this dialogue.
"If you truly think about it, what do we hear most of our collegiate careers," Kane said. "It's okay to ask for help with homework; it's okay to be sore; it's okay to be tired. Do you ever hear a coach say 'it's okay for you to be depressed' or 'it's okay for you to be anxious?' No, and you know why? Because traits of a winning team and athlete aren't anxiety, depression, sadness. It's toughness, grit and the never-give-up attitude. And, that is not me blaming a coach, because I agree that a pregame speech is not saying those kinds of things. I think it's [about] creating the environment where those issues can be openly talked about. That is what we created at Sacred Heart and I think it will change the stigma immensely on that campus.
"I would say that it doesn't take a movement like Heart to Heart; but just a few people who care. … Just standing up and saying 'this isn't okay' will change people's thoughts. Just because you don't have the capability to create an initiative doesn't mean you can't start a conversation."
To read about the experiences of athletes at SHU, visit the Heart to Heart; website.