December 1, 2015 by
Beth Sitzler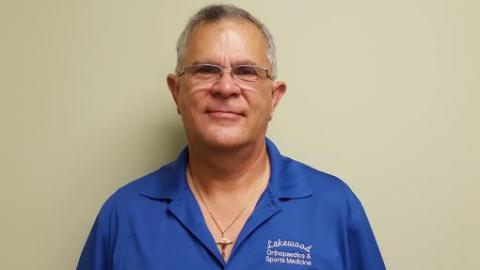 As an athletic trainer for 44 years, Robert Ramos, MS, LAT, ATC, is used to staying on his toes and being ready for whatever may happen. These skills were put to the test Oct. 26 when he was working a Gateway Charter Academy home game in the Dallas area and a referee needed lifesaving assistance. 
Ramos, AT coordinator with Lakewood Orthopaedics, was at the Gateway vs. Wortham High School football game as part of his athletic training outreach duties, which he began in 2010 after he "retired."  
"David Burton [MS, LAT, ATC, of Lakewood Orthopaedics] got a hold of me and put me back to work," said Ramos, adding that this is his fifth year doing contract work with a few high schools in the D-FW area.  
Through the contract with Gateway High School, Ramos visits the school twice a week, for about an hour and a half each time, for injury triage and rehabilitation with football and basketball players. He also provides medical care for the football home and away games.  
The Gateway vs. Wortham game was just like any other until Ramos noticed something out of the corner of his eye.  
"The referee came back onto the field, and as he came back on, he came down on one knee and then fell hard onto the surface, facedown," Ramos said.  
As Ramos made his way toward the fallen referee, he was informed by one of the other officials that the referee was prone to seizures.  
"I kept that at the top of my head, but looking at him and evaluating him, I knew he wasn't having a seizure," he said.  
Ramos began monitoring the referee's airways – at that time his breathing was shallow – and treating his bloody nose. He called for an AED as a nurse with the Wortham team, Roseanne Howard, joined him on the field. The duo then log-rolled the referee over, after which the referee's breathing stopped and he began to turn blue.  
"It was like clockwork, her and I, we worked together so beautifully," Ramos said. "We hardly said anything to each other because we knew what we were doing.  
"I went ahead and opened his airways and gave him airway management, and she was doing the chest compressions. We did that for one series and then we monitored and checked his pulse. He still wasn't breathing. By that time, an AED had come out."  
The duo received more help from a Wortham firefighter in the stands, who removed the referee's shirt and put on the AED pads. At the recommendation of the AED, a shock was administered to the referee and chest compressions continued.  
In the middle of the second set of chest compressions, the referee began to breathe again and a weak pulse was detected.  
"As time went on, his breathing began to get better and his pulse began to get better, so by the time the ambulance got there, he was responsive," Ramos said.  
"The ambulance driver told him he was lucky to be alive because of the situation that he was in. The ER doctor said the same thing, that he was lucky to be here because if no action would have been taken, of course he would be dead."  
While in the hospital, it was discovered that the referee had two arteries 100 percent blocked and another artery 90 percent blocked.  
"He, unfortunately, was a walking time bomb at that time," said Ramos, adding that the referee ended up needing surgery.  
Even after the referee was loaded into the ambulance, Ramos' night wasn't finished.  
"That game was something else, because right after that I had a concussion and then I had a kid with possible broken ribs and then I had another kid with a high ankle sprain – and that was all the other team," he said.  
Ramos said having an AED readily available was vital to saving the referee, adding that the Gateway stadium has two AEDs – one for the home side and another for the visitor's side.   
"The AED was out there in not more than a minute," he said. "Everything was coordinated.  
"The AED was critical because of the heart rhythm, the way it was being at that particular time … the heart was shaking and not pumping. The AED got it back into rhythm. Everyone needs to know how to work an AED."  
In addition to AED training, CPR training is also vital for not only athletic trainers, but the general public as well.  
"Because you never know what's going to happen," he said. "This happened to a referee, and you never expect something to happen to the referee."  
Ramos said he has remained in contact with the referee, adding that when he spoke to him in early November he was starting his cardio rehab.  
"He said I was his blood brother for life now," Ramos said, with a laugh.  
For other athletic trainers who encounter a life or death situation, Ramos' advice is simple: "Be prepared."  
"Have your training and follow your ABCs," he said. "Everything will kick in. You don't have to stop and think about what to do next. You just react."  
Posted by Beth Sitzler, NATA News Managing Editor (beths@nata.org)