June 20, 2023 by
Beth Sitzler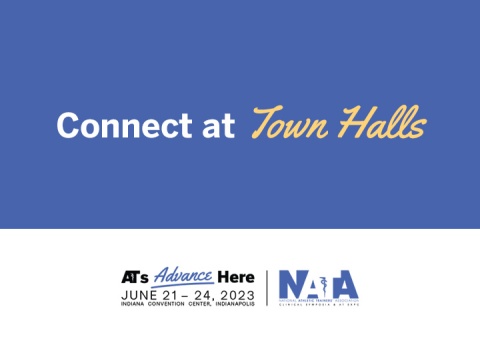 Attendees of the in-person 74th NATA Clinical Symposia & AT Expo will have several opportunities to connect and network with ATs in their settings or those who share similar professional interests during various town halls June 22-23.
For the first time, the NATA Secondary Schools Athletic Trainers' Committee will host a town hall, joining the existing town halls hosted by the NATA Ethnic Diversity Advisory Committee, NATA LGBTQ+ Advisory Committee and AT EducATionalist Cabinet.
Save the date and attend these events – all of which are taking place in the Indiana Convention Center (ICC) – to meet ATs from around the country and learn more about each group as well as their efforts and accomplishments over the past year.
EDAC Town Hall
4 to 6 p.m. June 22; ICC, Room 233
The EDAC Town Hall is the premier networking event for ATs interested in diversity and cultural competency. Attend to learn more about EDAC's projects and initiatives. This year's Bill Chisolm Professional Service Award recipients, Nicole Jones, MS, ATC, and Andrea Durham, ATC, will also be recognized during the town hall.
"The EDAC Town Hall is a great place to network and learn about all of the great happenings within the EDAC community," said EDAC Chair Darryl Conway, MA, AT, ATC.
LGBTQ+ Town Hall
5 to 7 p.m. June 22; ICC, Room 236
During the town hall, attendees will hear updates from the LGBTQ+ Advisory Committee and will have the opportunity to ask questions and chat with other members about their concerns and ideas. The committee will also celebrate its accomplishments and honor the recipient of the 2023 LGBTQ+ Award for Inclusive Excellence, S. Andrew Cage, EdD, LAT, ATC.
"We are very excited to do something new at our town hall this year and have invited guest speakers to come have meaningful discussions around legal advocacy and what we can do to support each other," said LGBTQ+ Advisory Committee Chair Jennifer Sturtevant, MBA, LAT, ATC. "Considering the current climate, we felt it was important to give people the opportunity to hear from subject matter experts and community partners, ask questions and, hopefully, feel empowered as they continue their journeys of advocacy. We will also talk about the updates to our Safe Space Ally Training program as well as introduce and present the Inclusive Excellence Award to our 2023 winner."
SSATC Town Hall
3 to 4:30 p.m. June 23; ICC, Room 233
The SSATC Town Hall provides athletic trainers in or interested in the secondary school setting a place to network and interact. SSATC will provide information on committee initiatives, ways to get involved and seek input from attendees. The 2023 Servant's Heart and AT of the Year district winners and national winner will be celebrated.
"If you are an AT in the secondary school setting, you should attend the SSATC Town Hall for an overview of committee activities and initiatives, our awards ceremony and collegial interaction with peers," said SSATC Chair Jennifer Rheeling, MS, ATC. "We want to hear from you, learn what is important to you and how we can support you. Our mission is to ensure ATs in the secondary school setting are equipped to be the cornerstone of the profession."
AT EducATionalist Town Hall
3:15 to 5 p.m. June 23; ICC, Room 236
At the AT EducATionalist Town Hall, the community's leadership will share their progress and accomplishments to date as well as provide an opportunity for anyone interested in athletic training education to engage in conversation. Attendees are encouraged to share what education-related issues are important to them and what we, as a profession, need to have a larger conversation about and shine more light on.
"Join us for our town hall to discuss the recent survey focused on efforts to recognize ways the AT community promotes the profession to future professionals," said AT EducATionalist Cabinet Chair Wanda Swiger, ATC, CES. "We invite all parties and agents involved in athletic training education to bring areas of interest to guide our work for this next year by providing the necessary structure and space for constructive and transparent discourse."