June 21, 2017 by
Beth Sitzler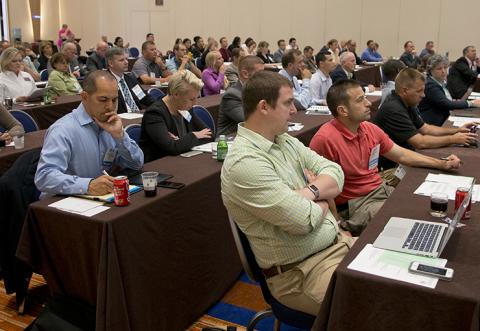 Athletic trainers who attend all three days of the NATA 68th Clinical Symposia & AT Expo can earn up to 25 CEUs. Of the 25 CEUs available at NATA 2017, there is a potential for five of them to be Evidence-Based Practice category CEUs. Additional CEUs may be earned by attending Advanced Track Seminars (6 CEUs for Monday events; 4 CEUs for Friday events), Minicourses (1 CEU each) and pre-conference Career Development Workshops (CEUs vary).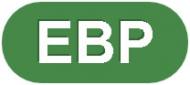 Events approved as EBP category sessions feature the "EBP" icon. There will be five events at NATA 2017 eligible for EBP CEUs. Some of the EBP events run concurrently so registrants will be able to attend up to three of the five. The EBP sessions are:
4 – 6 p.m. Tuesday, June 27
It's Nice to be Kneaded! (GRBCC, Grand Ballroom B)
Overview and Update of a Multi-Site Concussion Study: The Concussion Assessment Research and Education (CARE) Consortium (GRBCC, Hall C)
11:45 a.m. – 1:45 p.m. Wednesday, June 28
Leaving the Lab and Stepping onto the Battlefield: Using 15 Years of Injury Prevention Research in the U.S. Military to Guide the Future (GRBCC, Hall C)
9:30 – 10:30 a.m. Thursday, June 29
Best Practices in Patellar Tendinopathy Management (GRBCC, Grand Ballroom B)
Proximal Muscle Dysfunction, Dynamic Malalignment and Lower Extremity Overuse Injury: Does the Evidence Support Our Practice? (GRBCC, Hall C)
Participants must complete an online assessment for each EBP event attended to receive EBP CEUs. Each day during convention, eligible attendees with confirmed attendance will receive an email to complete evaluations for that day's events. These emails will be sent to the email address used to register for convention.
Assessments must be completed and turned in by a deadline (July 31, 2017) to receive EBP CEUs. There will be no exceptions. Participants are encouraged to complete the evaluations as they're received each day to ensure they are completed on time. If evaluations aren't submitted by the deadline, participants will receive Category A CEUs for the event. Have your registration number ready as you will need to enter it to complete the assessments.
If the evaluation email doesn't make it to your inbox, check your junk/spam folder. If it's not there, please fill out the NATA staff contact form (select "Continuing Education/Higher Education" in the dropdown box) and note the email address you need the evaluation link sent to. It is the attendee's responsibility to let NATA know if they didn't receive the evaluation email.
Statements of Credit
In line with BOC requirements, NATA provides Statements of Credit post-event. An email will be sent to all eligible registrants with confirmed attendance with instructions on how to access and print their statements of credit by Aug. 4, 2017.