June 16, 2016 by
Beth Sitzler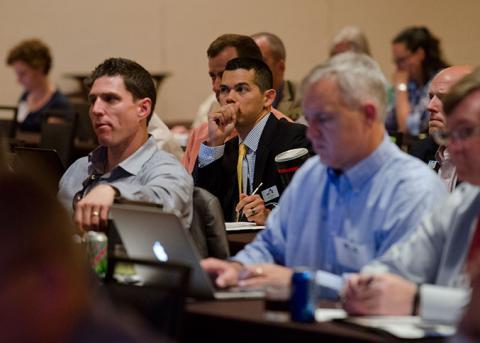 In line with BOC requirements, NATA will again provide CEU certificates post-event. Approximately one month after convention ends, an email will be sent to all eligible registrants with confirmed attendance with instructions on how to access and print their CEU certificate. For more information, visit the NATA convention website.

  Of the 25 CEUs you can earn during NATA 2016, there is a potential for five of them to be Evidence-Based Practice category CEUs. Events approved as EBP category sessions feature this "EBP" icon. There are five EBP category approved programs, and you will be able to attend three of the five as some of the events run concurrently. EBP category sessions are:
4 to 6 p.m. Thursday, June 23
Lead Them to Water but Don't Force Them to Drink! Recommendations to Prevent Hyponatremia (Baltimore Convention Center, Ballroom I)
Impact of Acute and Chronic Lateral Ankle Sprain: Summary and Recommendations from the International Ankle Consortium Position Statement (Baltimore Convention Center, Hall F-G)
11:45 a.m. to 1:45 p.m. Friday, June 24
An Evidence-Based Approach for the Treatment of SLAP Lesions (Baltimore Convention Center, Swing Hall)
9:30 to 10:30 a.m. Saturday, June 25
Nutrition in Injury Prevention and Performance (Baltimore Convention Center, Ballroom I)
Moving Beyond the Checkboxes: Utilizing Functional PPEs (Baltimore Convention Center, Swing Hall)
Each day, participants will receive an email to complete evaluations for that day's events. This feedback helps NATA, the Convention Program Committee and the Free Communications Subcommittee to improve future programming. Session evaluations must be completed and turned in by the end of the day July 12 to receive the EBP CEUs. If the evaluations aren't turned in by that time, participants will receive category A CEUs for the session. Participants are encourages to complete the evaluations each day they're received to ensure they're turned in before deadline.
Evaluations will be emailed to the email address used for registration. If you don't receive the evaluation email, check your junk email folder. If it's not there, visit the registration desk to let them know or email knowledgeinitiatives@nata.org before July 12 with the email address you need the evaluation link re-sent to.
It's your responsibility to let NATA know if you didn't receive the evaluation email. When completing each day's evaluation, you will need to enter your registration number, so have that handy.
To allow time for completion of evaluations/assessments and processing, your Statements of Credit, showing your CEUs, will be received by email approximately one month following convention. A link to the Statement of Credit will be sent to the email used for registration.