June 2, 2022 by
Beth Sitzler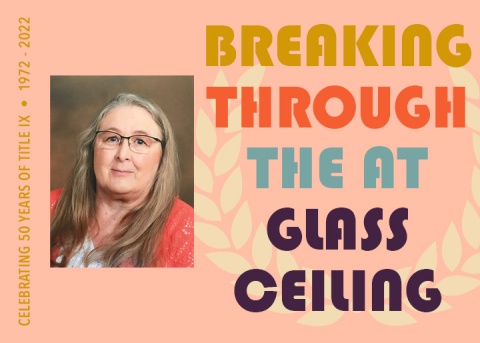 In 2022, NATA is celebrating the 50th anniversary of Title IX, which went into effect June 23, 1972. Starting during Women's History Month in March leading up to the 73rd NATA Clinical Symposia & AT Expo in June, the NATA Now blog will highlight various legends of the profession and outline the impact Title IX had on them, their careers and the overall athletic training profession.
Limited resources and access didn't stop certain women from pursuing their dreams to become athletic trainers. One of these tenacious aspirants was Jody Dickens Treadway, AT Ret., MS, ATC.
Treadway was emboldened to venture into athletic training as Title IX passed during her student tenure at the University of Wisconsin at Madison (UW). Backed by influential male and female leaders in athletics, Treadway was inspired to begin a career in athletic training. She credits these major players in her career for contributing to the advancement of women in the profession, even before Title IX was passed.
Treadway was one of the early women in athletic training history to break through its proverbial glass ceiling at that time. From an athletic training student to the first full-time female athletic trainer at UW, she has had a progressive athletic training career. Now a retired athletic trainer in District Ten, Treadway reflects on the impact of Title IX and other contributors to her career.
1974-76 Junior And Senior Year at UW
Title IX passed while Treadway was a student at UW. In 1974, during her junior year, she became interested in athletic training while taking the introduction to athletic training course. Treadway and another student, Janet Tappon, approached UW head athletic trainer Gordon Stoddard and the women's athletic director about working with women's sports. They received permission to do so and were paid $2 an hour.
The athletic training facility was a room adjacent to the showers in the women's locker room. Access to the main athletic training facility in the stadium and the male athletic training staff was limited to mornings and only by prior arrangement as the entrance was between the football locker room and showers.
At that time, there wasn't an official female athletic trainer working at UW, but in 1975, the university hired a female physical therapist. The following year, Tappon was hired as the first female AT. Treadway went on to get her degree in physical education with an emphasis in athletic training.
1976-87 Washington State University
In the fall of 1976, Treadway was the second woman hired as a graduate assistant at Washington State University. The athletic training facility for women was a storage area attached to the women's PE equipment room. There was limited access to the main (men's) athletic training facility in the morning,
In the fall of 1977, Treadway was hired as the first full-time female athletic trainer at WSU. Head athletic trainer Dick Melhart and assistant athletic trainer Gary Hirst welcomed Treadway and the female athletes into the main athletic training facility. There was one budget for supplies and equipment. Treadway's responsibilities were the care and treatment of all female athletes. The three of them worked well as a team, taking care of all athletes, male and female.
Mark Smaha replaced Melhart in early 1978 and, a year or two later, another female graduate assistant was hired. The staff, including athletic training students, continued to work as one staff. Treadway remembers her first year salary in 1977 was $8,000.
Major Contributors
Treadway credits Gordon Stoddard and Melhart for opening up their athletic training facilities to women without question. They were very supportive of providing medical care to female athletes prior to Title IX and said she is thankful for that.