March 18, 2020 by
Beth Sitzler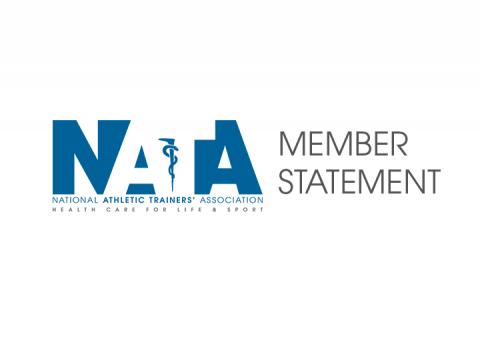 We find ourselves in an extraordinary time with the COVID-19 pandemic. The National Athletic Trainers' Association (NATA) is proactively addressing the pandemic on numerous fronts, including those listed below and others.
Athletic Trainers as a Key Workforce Solution in the Health Care System
As you know, it is possible that in locations around the United States, our health care system could become overwhelmed. NATA leaders view athletic trainers as a key solution to a potential health care workforce challenge.
NATA will continue to communicate on this topic in the coming days, but our initial messages are:
If you are an AT working in the hospital, physician practice, health care system and related settings, we encourage you to communicate your capabilities to assist your employer in COVID-19 related solutions.
If you are an AT who finds you are temporarily separated from your daily duties and patient populations in settings such as secondary school or collegiate, please consider reaching out to your local and regional health care entities about your capabilities and availability as a health care provider.
NATA Clinical Symposia & AT Expo Status
NATA acknowledges the disruption of meetings globally with many district meetings either canceled or in question. NATA 2020 is 92 days away and every day brings new information and actions taken to help curb the spread of the virus. As we continue to work with our convention partners, NATA will remain vigilant in our efforts to monitor conditions and recommendations from the Centers for Disease Control and Prevention (CDC), World Health Organization and the event industry community. Members who register for convention will have an opportunity to reassess their plans as the event nears. We encourage members to be watchful with us as we navigate through these unprecedented times.  Follow @NATAevents on Twitter and @NATAMeeting on Facebook for the most current convention information.
Professional Development Opportunities
With so many cancellations that directly impact NATA members, we encourage members to consider utilizing NATA's extensive online learning platform for BOC-approved CEU content. Now is an excellent time to focus on advancing your clinical skills and clinical specialization with NATA's Professional Development Center. Members may use their 10 free CEU credits for several courses and can check out the schedule of upcoming live webinars. Visit the PDC for more information.
AT Education Impact
As several universities' athletic training programs temporarily move to distance learning/online learning, remember that content in the NATA Professional Development Center may be a resource to supplement your students' learning. Learn more about how NATA can assist , and be sure to visit the PDC for all your professional development needs.
NATA will continue to remain nimble, with a keen focus on supporting our members and sharing how we, as athletic trainers, can help navigate through these unprecedented but hopeful times.
Support from the NATA National Office
As with many employers across the country, the NATA office is currently working remotely, but remains 100% operational to support the needs of our members, and to keep you abreast to relevant changes and resources for consideration. NATA has developed a COVID-19 resource page, under Practice and Patient Care section of the website, where members can access all NATA and affiliate communications distributed to members related to the pandemic. In addition, we encourage you to utilize Gather to stay connected and share ideas, as well as NATA communication channels for continued updates.