August 30, 2018 by
Todd Christman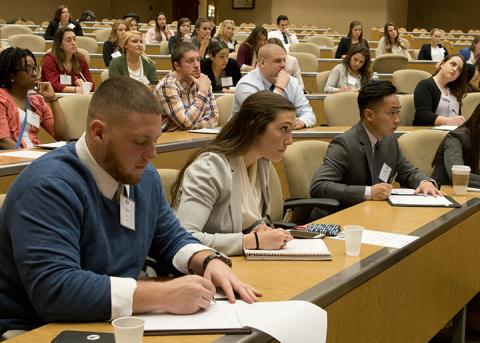 The LGBTQ+ Advisory Committee (LGBTQ+AC) has received funding from NATA to offer a grant to fund one professional level athletic training student to attend the upcoming 2019 iLead conference Jan. 25-26, 2019. This grant will cover iLead attendance costs up to $1,500 associated with travel, lodging, registration and meals. Any athletic training student enrolled in a professional level CAATE accredited athletic training program who champions inclusivity, has a passion for advocacy and has interest in the mission statement of the LGBTQ+AC is encouraged to apply. More information on the 2019 iLead conference can be found here.
In addition to attending the 2019 iLead conference, the grant recipient will also be appointed as a student liaison to the LGBTQ+AC until the next biennial iLead conference. During their appointment, the grant recipient will receive individual mentoring on leadership, advocacy and inclusion as it relates to the profession of athletic training.
During their two year term as a liaison, the grant recipient will also:
Complete a report upon completion of the iLead conference outlining his/her/hir experience, learning and actionable items in which his/her/hir leadership skills can contribute to the LGBTQ+AC.
Complete an annual report detailing progress and professional development during his/her/hir time as the liaison to the LGBTQ+AC.
Collaborate with the Student Leadership Committee on any crossover projects relevant to the LGBTQ+AC's mission.
Create LGBTQ+AC updates for dissemination in the Student Leadership Committee's quarterly newsletter.
Interested candidates should email completed applications to the Grant Coordinator Sean Rogers by Oct. 1. Questions regarding this grant can be directed to Sean Rogers or the Chair of the LGBTQ+AC Pat Aronson. Specific application guidelines and more information can be found below.