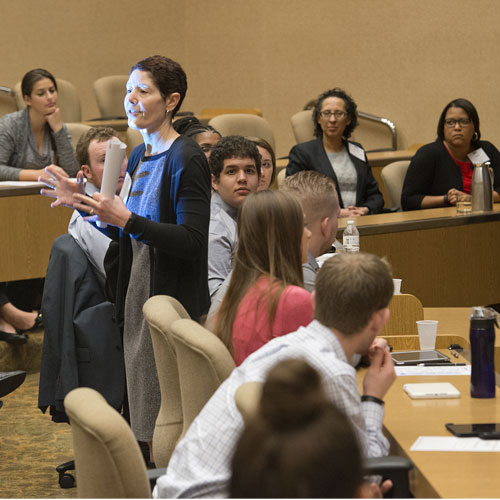 iLead, a leadership workshop for undergraduate (juniors and seniors only), entry-level graduate and post-professional students, will be held in conjunction with the Joint Committee Meeting in January 2019.  In addition, the NATA Ethnic Diversity Advisory Committee (EDAC) has created a diversity grant program for ethnically diverse athletic training students who would like to attend iLEAD but may not have the finances to do so.  
When:  January 25-26, 2019
Where: Omni Mandalay Hotel at Las Colinas, Irving, TX
Who: Registration will open in September 2018. Registration is open to undergraduate (juniors and seniors only), entry-level graduate and post-professional students.
What: iLead will feature presentations and workshops focusing on the soft skills of leadership from key NATA and Strategic Alliance leaders. Attendees will gain first-hand experience and networking opportunities to the NATA leadership.
The iLEAD program is now available. For more information, please contact Katie Scott, MS, ATC at katies@nata.org.
NATA has negotiated discounted rates at the Omni Mandalay Hotel at Las Colinas for iLEAD attendees. If you are rooming with a Joint Committee Meeting (JCM) attendee, please have the JCM attendee reserve your shared room through the JCM housing process. 
Call for Proposals
If you are interested in speaking at iLEAD 2019, please complete the proposal form. Please note: preference will be given to those proposals that fall within the following themes:
Leadership Style (i.e. personality types, communication styles amongst varying leadership styles)
Health care communication, generational gap differences and coping mechanisms
Effective feedback and communication techniques
Developing correctional action and adapting to negative circumstance
Soft skills workshops and lectures (i.e. cover letter workshop, interview preparation)
The deadline to submit proposals for iLEAD 2019 is June 15, 2018.