January 13, 2015 by
NATA Admin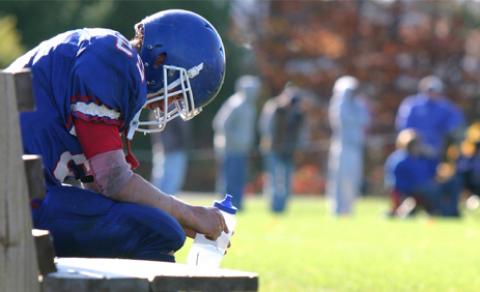 Dear John: Someone at a holiday gathering made a claim about injuries in the NFL. The players' association (NFLPA) has negotiated a training schedule that significantly limits the amount of scrimmage time preceding a game. The claim was that this change has resulted in an increase in player injuries this season. Are injuries on the increase? Does reduced contact time result in an actual increase in injuries? Or from your perspective, as an athletic trainer, would you expect fewer injuries due to less wear on the athlete's body? — Thomas Thiel, St. Francis University
Dear Tom: The NFL and NFLPA are four seasons into a 10-year collective bargaining agreement that eliminated two-a-day, full contact/padded practices in the preseason, allowing only one such practice per day. Then, once the regular season starts, the CBA limits full-contact/padded practices to a total of 14, with no more than one per week. More specifically, 11 of those practices must occur in the first 11 weeks of the season. For the remaining six weeks thereafter, only three more contact practices are allowed, even if the first 11 have not all been used.
The NFLPA's thought, in demanding theses changes, was that the reduced contact would lead to fewer injuries. Many coaches argued that the reduced amount of contact would lead to poorer blocking and tackling technique and in turn more injuries in games.

The coaches may have a point: The NFL's injury rate, according to Sports Illustrated, did indeed rise steadily in each of the first three years of the current CBA but the reasons for that trend are difficult to determine. The overall injury data for this season is not yet in.
On the other hand, the data on concussions is up-to-date for all four seasons, including this one. Fortunately, those have dropped during each of the last two years after holding steady from 2011 to 2012 according to the Concussion Blog and PBS (171 NFL concussions in 2011, 171 in 2012, 152 in 2013, and 123 in 2014). It is doubtful that fewer full contact practices alone caused the increase in injuries and the decrease in concussions.
Jump to the full version of this article in The Times. John Doherty is licensed athletic trainer and physical therapist. This column reflects solely his opinion. Reach him at jdoherty@comhs.org. Follow him on Twitter @JDohertyATCPT.
Posted by NATA News Managing Editor Jaimie Siegle (jaimies@nata.org). Photo via NATA