December 12, 2022 by
Lydia Hicks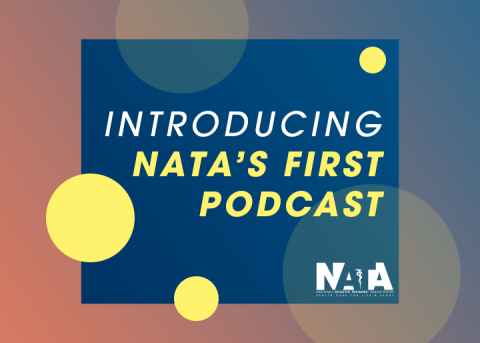 "If you're looking for another resource for athletic training news and updates, this show is for you," said NATA Internal Marketing Coordinator Tracy White, producer of "The NATA-Cast," in the opening line of the new podcast's preview.
In October, NATA premiered "The NATA-Cast," its official podcast, which provides in-depth conversations about health care topics that interest athletic trainers.
While NATA offers many online resources and platforms for members to increase their knowledge and skill set, "The NATA-Cast" is the first podcast to be produced by NATA, available for all athletic trainers to access. NATA Senior Internal Marketing Manager Dylan Orrell said this unique aspect stems from the desire to showcase NATA's value to all ATs regardless of membership status and provide a platform that allows them to participate in meaningful discussions on current topics affecting the profession.
"The purpose of the podcast is not just to do an overview, but a deep dive into a topic – really get down into the nuts and bolts of something so you can have a longer conversation and fully understand the topic that's being discussed," Orrell said. "So, we have thought leaders and then we've got someone who's asking questions, like an interviewer or a host.
"The host's role is asking questions the listener would probably ask. They are inquisitive, curious and engaged. Their role is to serve as that conduit for the listener, so while they are having this discussion, the listener can learn more and start to think on their own about the topic at hand and get their brain flowing."
Orrell said that for years, NATA had sought to have a podcast for athletic trainers' benefit and had been deliberating on what kind of resources producing a sustainable, beneficial and invaluable podcast show would entail.
White, who spearheaded the effort and researched ways to implement the podcast talk show should the need arise, said that the members' request for such an offering was the final confirmation to kick it off.
"The member feedback just kept getting larger and it became obvious that we needed to do it, because enough people were asking about it," she said. "So, preparing for it in advance was helpful because we did push it out pretty fast."
The podcast launched with a multipart "CompensATion ConversATion" series led by the NATA AT Compensation Task Force and features discussions about compensation in the college/university and hospital settings. They are "CompensATion ConversATion: What to Expect," "CompensATion ConversATion: Tips for Approaching the Uncomfortable Topic" and "CompensATion ConversATion: Busting Three Big Myths About AT Compensation."
A new series, called "DedicATed," will begin in 2023, Orrell said. It will include biographical insight into ATs who make up the NATA membership and explore why they are devoted to the athletic training profession.
"DedicATed" will entail conversations with members of the NATA Board of Directors, including NATA President Kathy Dieringer, EdD, LAT, ATC, and will run throughout 2023 and beyond.
"I think it will be interesting to hear their perspectives on why they volunteer, what got them excited and passionate about this profession," Orrell said. "Everybody's story is going to be different, and I think that will be really eye-opening and fun to listen to."
The new podcast series will not only feature leaders and the NATA board members, Orrell said, "It will also feature members who have shown a passion for the profession. We'll talk to them about how they got to be where they are. How did they get involved in athletic training? How did they get involved with volunteerism?"

CONNECTION AND FEEDBACK
White said that "The NATA-Cast" is a way for members to feel connected to their peers "in a setting or a time in their job when they may feel alone or misunderstood."
Another benefit the podcast provides is connection on the go, as athletic trainers are more likely to work in a variety of settings and in a mobile capacity.
"We know that our members are increasingly busy and may be pulled in a lot of different directions," Orrell said. "This is an easy way to keep them engaged without it requiring too much focus.
"For instance, with 'CompensATion ConversATion,' money is a huge talking point for our members right now. They don't feel that they are being adequately compensated for the work that they do. And there are jobs out there that they view as demeaning to the profession. [The podcast series also includes] ways that they can advocate for themselves. So we are not talking just about anything and everything, we are talking about intentional topics that we know are of interest to most, if not all, of the membership."
Hence, interest from listeners. In the first 30 days from its launch, "The NATA-Cast" garnered more than 500 downloads.
"That's just almost unheard of, in terms of engagement levels, and is remarkable," Orrell said. "So, I think the proof is in the pudding. The numbers speak for themselves. That shows that listeners are excited, they're hungry and interested in the conversations that we are having."

​​​​​​​HOW TO PARTICIPATE
The "NATA-Cast" will exclusively feature members, their work and their stories, Orrell said.  Qualities of a good episode will include well-versed members who are comfortable speaking on a relevant topic of interest in sports medicine and who are acknowledged by their peer group as a thought leader on the subject.

Members who are interested, but may be hesitant because public speaking is new for them, should not let that hold them back, White said.
 "We are asking participants to bring passion to the topic," she said. "If it's something that you are willing to have a conversation with your peers about, we want to hear it."
Members interested in hosting a future podcast are encouraged to be on the lookout for announcements from NATA about such opportunities. Orrell said calls for proposals, similar to what NATA does for its virtual events and the NATA Clinical Symposia & AT Expo, will be sent out to the membership from time to time.
"In addition, if there is a member who would like speak about something, pitch your idea," he said.  
Prospective speakers are not only required to be NATA members, but the topic or idea proposed should also have relevance to the athletic training profession and health care.
"We do encourage people to submit their ideas to us at thenatacast@nata.org," Orrell said. "We welcome submissions, thoughts and ideas about future episodes because we want to offer what our members want to hear."

​​​​​​​CASTING THE FUTURE
Orrell said that, with the podcast being an unexplored frontier for NATA, there are no limits to what "The NATA-Cast" team can do. Therefore, the focus for the future of the podcast is to cultivate variety and freshness of content, while cycling it with optimum frequency.
"We want to be able to offer a plethora of episodes, so that really, no matter your interests or passions, you can find something within our library that is interesting to you," he said.
Listen and tune in for more episodes of "The NATA-Cast" on the podcast's webpage or access it through your preferred podcast provider.
 
​​​​​​​
​​​​​​​Renew Your NATA Membership
Your membership with NATA unlocks access to a variety of member bene­fits in professional growth, advocacy, support and connection, with several benefi­ts extending beyond just one of these categories. Visit the NATA Member Benefits webpage to learn more about what comes with being an NATA member and renew your membership today. The deadline to renew is Dec. 31.
Don't let finances get in the way of a membership – if you are experiencing a financial hardship, contact Member Services at 972.532.8897 or membership@nata.org to see how we can help.