November 5, 2021 by
Elizabeth Quinn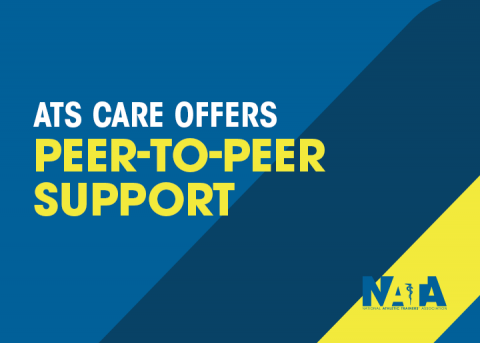 To assist NATA members with critical incidents, the creation of the ATs Care Program was approved by the NATA Board of Directors in 2015.
As a continued valued member benefit, ATs Care offers crisis management training and crisis intervention for athletic trainers dealing with the aftermath of a critical incident. The mission of the ATs Care Commission, which oversees the program, is to aid ATs and athletic training students who have been through a critical incident by utilizing a peer-to peer system to assist, monitor and encourage these individuals to seek initial support through state or regional ATs Care team members.
"So many times we keep things bottled up because we don't think others can understand or entrust those secrets with other people, but ATs Care offers a group of homogenous people who, in a lot of ways, embodies you like a family," said ATs Care Commission Chair Lovie Tabron, MS, LAT, ATC. "ATs Care provides a judgement-free zone from someone who is like a family member that understands what you're faced with and can be empathetic to what you're dealing with."
While managing stress is a vital skill for ATs, knowing that there's a critical incident professional available to talk to and a place where they can openly express their feelings can provide some relief.
During the NATA Now blog's 2020 Mental Health Month series, NATA spoke with ATs Care on how ATs can better manage stress.
"[Athletic trainers] are quite often the heartbeat of the team, and if we don't know how to manage our stress levels, how can we preach that to our athletes?" Tabron said. "If we're not prioritizing ourselves and our mental health, then we are not whole to help our patients."
Tabron recommended creating a list that outlines cognitive, physical, emotional and behavioral feelings that represent a normal state of being. If there is a day, couple of days or a week when an item on that checklist can't be checked off, she said that's when an athletic trainer should seek out support.
Additionally, as COVID-19 continues to be present, there can be increased levels of stress when providing safety measures, protocols and procedures for patients, co-workers and oneself. ATs Care provided a statement in 2020 outlining how they are here to help members during this unprecedented time.
ATs Care also shared recommendations on how to self-care during COVID-19, such as starting your day with a meditation; getting ready for the day; getting some type of physical activity in to release endorphins; taking note on when you're not feeling yourself; and jotting down some thoughts.
Keeping athletic trainers healthy is of the utmost importance, as ATs needs to "put on their oxygen mask before helping others," as the old-age saying goes. In order to do that, ATs need to recognize when it's appropriate to seek out assistance – and even if they aren't sure, it's OK to reach out.
Furthermore, should it be needed, ATs Care provided six steps ATs should take to prevent suicide.
Know the signs.
Ask.
Keep them safe.
Be there.
Help them connect.
Follow up.
How To Reach Out
A critical incident impacts each of us in different ways. If you or a colleague are in need of assistance navigating a challenging situation, whether it's personal or professionally related, contact ATs Care. There are options for members including email, texting and calling to ensure you're at your most comfortable when reaching out.
The National Suicide Prevention Hotline:  800.273.8255
Text "HOME" to 741741 anytime in the U.S. and connect to a crisis counselor
For more mental health and ATs Care resources, visit the ATs Care webpage.
Renew Your NATA Membership
NATA is working every day to ensure you have the advocacy, professional growth, connection and support needed to keep athletic training essential to health care. By being an NATA member, you are investing in yourself, your profession and your future. Visit the NATA Member Benefits webpage to learn more about what comes with being an NATA member and renew your membership today. The deadline to renew is Dec. 31.
Don't let money get in the way of investing in yourself and your profession. Contact Member Services at 800.879.6282 or membership@nata.org to see how we can help.