April 22, 2020 by
Claire Williams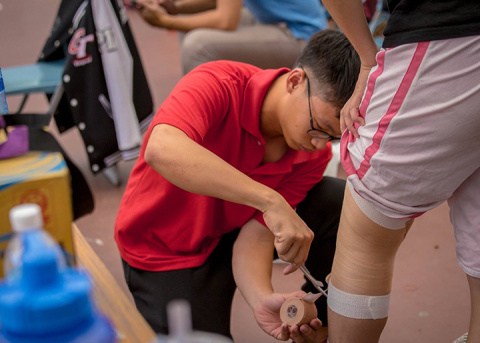 In the April NATA News, p. 20 featured Valerie Herzog, EdD, LAT, ATC, Department of Athletic Training chair at Weber State University and Anthony Breitbach, PhD, ATC, athletic training program director at Saint Louis University, who encourage and support international students at their institutions. Across the country, though, there are other athletic training programs doing the same. Cheng-I "Johnson" Lin is a visiting student from Taiwan at the University of Texas at Arlington, and is continuing his education to become an athletic trainer with professional basketball players. 
An athlete in Taiwan, Lin shifted his focus to athletic training after playing sports. "I wanted to stay on the field and do something with sports. I like helping people. Thus, I found out athletic training is perfect for me," he said.
At 23 years old, Lin is earning his master's degree in athletic training at UTA. In his hometown of Hsinchu, Taiwan, Lin was studying sports medicine at Kaohsiung Medical University. He arrived to the U.S. in the summer of 2019, and has made a home in Arlington, Texas, where he's now completing classes from his apartment during the COVID-19 pandemic.
The first semester, he said, was most challenging because of the language barrier. But his professors and the classroom environment were encouraging, and the organization of the program is more student-friendly than he was accustomed to in Taiwan.
"The professors at UTA provide me with a great environment to study and my classmates are very helpful when I have any problems," he said.
During a visit to the NATA headquarters in Dallas in March with his class led by UTA program director Laura Kunkel, EdD, LAT, ATC, Lin noticed a Taiwanese flag signed by other athletic trainers who had visited the states – a couple of them were now his professors from home.
He reflected on his experience and the opportunity in the United States, and then posed for a photo opp to show his friends and family.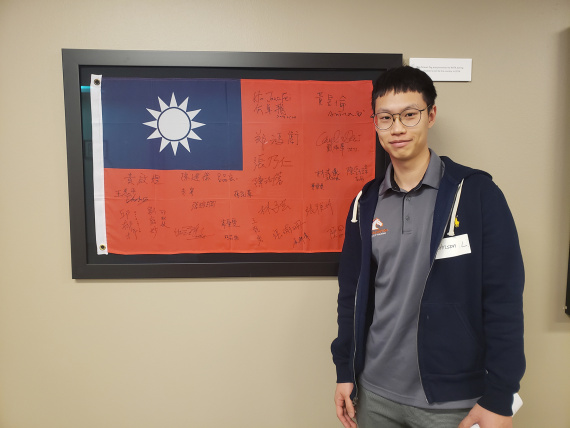 From learning about athletic training at the professional sports level, and new elements of the athletic trainer's role (such as creating emergency action plans, which weren't a part of his Taiwanese curriculum), Lin said his favorite part was helping athletes return to play. 
"I love being friends with athletes and helping them return to play, playing even being better than before," he said.