April 5, 2022 by
Beth Sitzler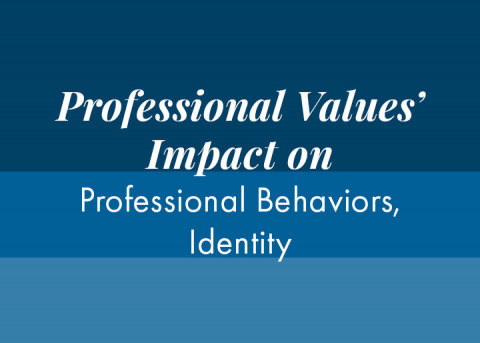 By Kimberly Peer, EdD, ATC, FNATA, Gretchen Schlabach, PhD, ATC, Marisa Colston, PhD, ATC, Carrie Baker, PhD, ATC, and Midge Peterson, MS, LAT, ATC, NATA Professional Responsibility in Athletic Training Workgroup
The NATA Professional Responsibility in Athletic Training (PRAT) Workgroup asked you, the NATA membership, "What are your professional values (PVs)?" and 4,827 members told us that our shared PVs are: caring and compassion, integrity, respect, competence and accountability (CIRCA).
You also told us that PVs are very important (80%) or important (19%). Relative to whether PVs should be explicitly articulated, you told us that it is very important (51%) or important (39%). Clearly, a preponderance of NATA members support the pronouncement of the NATA shared PVs.
Our NATA shared PVs are defined as:
Caring & Compassion is an intense concern and desire to help improve the welfare of another.
Integrity is a commitment that is internally motivated by an unyielding desire to do what is honest and right.
Respect is the act of imparting genuine and unconditional appreciation and value for all persons.
Competence is the ability to perform a task effectively with desirable outcomes.
Accountability is a willingness to be responsible for and answerable to one's own actions.
PVs are conceptualized as standards that define professional behavior, principles and ideals that influence moral (right/honorable) judgment relative to the treatment of others and give meaning and direction to clinical practice. Health care and medical specialties have demonstrated the impact of shared PV relative to 1) guiding responsible behaviors and 2) shaping the professional identity.
Guiding Responsible Behaviors
Our shared PVs manifest through many behaviors – some sample behaviors identified by the NATA and endorsed by the NATA Board of Directors, others that will emerge as you cue into these values in your professional practice. Imagine how you might use our shared PVs as the pillars to carve-out responsible behaviors for your practice setting, or athletic training committee/leadership group at the local, state, district or national level. Imagine how you might use our shared PVs throughout your practice documents, such as your policy and procedures manual, standing orders, etc.
Our shared PVs are simple, yet powerful words as they intuitively encourage responsible behaviors spontaneously and automatically. Consequently, this is exceedingly helpful in an emerging athletic training situation, on and off the field. By quickly drawing upon shared PVs, the AT is quickly guided in a responsible direction until time is created to recall and review important athletic training practice documents, such as the NATA Code of Ethics, BOC standards of professional practice and state practice acts.
Because shared PV are easy to understand and manifested in responsible behaviors, it inspires public trust and understanding, which fortifies the social contract. This implicit contract with society gives us the privilege to call ourselves a true profession and self-regulate our own affairs. In turn, our promise to society is that we will act responsibly and with integrity while providing a competent and selfless service.
Shaping the Professional Identity
The term "professional identity" has been rooted in the literature as early as Aristotle, who promulgated phronesis, a related notion. In 1957, Merton, a scholar in the sociology of medical education, emphasized the need for professional education to provide the novice professional with a professional identity so that he comes to think, act and feel like a physician.
More recently, the importance of PVs in shaping the professional identity didn't become widely discussed in medicine and health care professions until the Carnegie Foundation's 2010 report on medical education stated that "professional identity formation – the development of professional values, actions and aspirations – should be the backbone of medical education."
As athletic training continues to evolve in unique settings with unique populations, shared PV will serve to unite us as one professional body across practice settings, ages, sex, gender identities, districts, years of experience, ethnicity, and other demographic features. Given shared PV imparts a distinctive professional identify, it encourages a strong sense of belongingness and commitment.
In closing, NATA members voiced their interest in articulating our shared PVs. As such, the PRAT Workgroup pursued this interest to identify these shared PVs, which guides responsible behaviors and encourages a distinctive professional identity.
References
Cruess RL, Cruess SR, Steinert Y. Amending Miller's Pyramid to Include
Professional Identity Formation. Aca Med. 2016; 91(2): 180-85.
Irby DM, Cooke M, O'Brien BC. Calls for Reform of Medical Education by the Carnegie Foundation for the Advancement of Teaching: 1910 and 2010 Aca Med. 2010. 85(2): 220-27.
Merton RK, Reeder LG, Kendall PL. The Student–Physician: Introductory Studies in the Sociology of Medical Education. Cambridge, Mass: Harvard University Press; 1957.
Rassin M. Nurses' Professional and Personal Values. Nurs Ethics. 2008; 15(5):614-630.