January 7, 2015 by
Todd Christman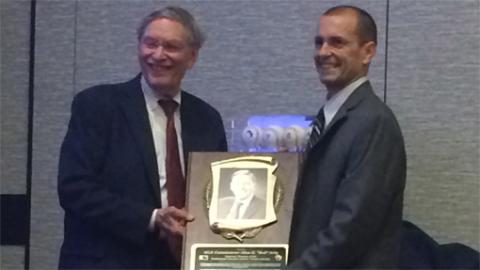 The
Professional Baseball Athletic Trainers Society
(PBATS) recently granted honorary membership to Major League Baseball Commissioner Allan H. (Bud) Selig, in gratitude for his longtime relationship with PBATS and his leadership of the sport since 1992. The announcement was made as a part of the annual Baseball Winter Meetings, where Selig met with PBATS.  
Selig became just the sixth honorary member in PBATS history. Previous honorary members have included the late Dr. Frank Jobe, the longtime team physician of the Los Angeles Dodgers and the pioneer of Tommy John surgery, and the late Dr. Lewis Yocum, the longtime team physician of the Angels.  
As a part of its appreciation of the Commissioner's service to Major League Baseball, PBATS presented Selig with two gifts ahead of his upcoming retirement in late January of 2015.  One gift was a plaque with Selig's likeness. The other was an etched glass case of baseballs signed by the head and assistant athletic trainers of each of the 30 Major League Clubs.  
Mark O'Neal, President of PBATS, said: "PBATS has long enjoyed a constructive relationship with Commissioner Selig himself and the members of his staff at Major League Baseball. We are honored to congratulate Commissioner Selig on his tremendous career and for taking our game to new heights. The members of PBATS wish the Commissioner all the best after a job well done for the National Pastime."  
Commissioner Selig said: "I am very grateful for the honorary membership and the gifts from the Professional Baseball Athletic Trainers Society, an organization that I have held in the highest esteem throughout my tenure as Commissioner. The athletic trainers have played a vital role for our sport. I have always sought their counsel on a wide range of issues, and I especially appreciated their guidance as we achieved the toughest and most comprehensive drug testing program in professional sports. I thank PBATS not only for this humbling gesture, but most importantly for their longtime, dedicated efforts for our clubs, our players and our fans."  
The mission of PBATS is to serve as an educational resource for the Major League and Minor League Baseball athletic trainers.