March 22, 2023 by
Lydia Hicks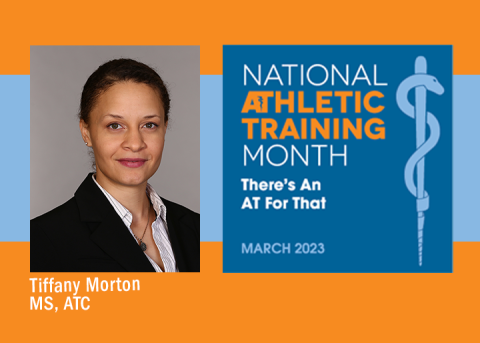 Throughout the history of athletic training, the college/university, higher education, professional sports, secondary school and various emerging settings have become home to athletic trainers wanting to care for all active populations. The impact of these ATs has helped their patients remain active and healthy in work, life and sport.
In honor of National Athletic Training Month this year, the March NATA News featured nine athletic trainers who are providing care to a variety of patient populations. They shared what drew them to the athletic training profession and their particular setting. They also shared how the AT's essential skill set showcases this year's NATM theme, "There's an AT for That."
Continue reading to learn more about NATA Cannabinoid Task Force Committee member Tiffany Morton MS, ATC, and her athletic training journey in the professional sports setting.   
 
Why are you passionate about your patient population/setting?
I get the opportunity to work with some of the most dedicated, motivated and downright elite athletes. They are absolute beasts at what they do and it allows me to create rehabs that are art in merging creativity and science. That is the challenge, but it's also the part that keeps it interesting. It's also an amazingly unique opportunity to share the profession. People ask what I do, and because it's on TV, they are able to "see" part of it. The spotlight allows me to voice what other ATs are doing with few resources and funding, showing that they are the true rock stars. This might be the most important aspect of my setting. We have to bring to light the concerns ATs have for their athletes and share that with the young athletes and the parents so they know that their athletes are important enough to get the same care provided by an AT.
Tell us about your most memorable day on the job.
Every single time I complete a rehab these days and an athlete gives me credit, I think back to when I was completing my first rehabs and learning the best way to provide care and how those athletes were so patient with me. Rehab is such a partnership. Each time I can build a relationship with an athlete that allows us to get to the return-to-play stage successfully is a memorable day. The day when they realize they can go back to working on their dream is a memorable day.
How have you advocated for your position and the athletic training profession throughout your career?
Every single time someone asks what I do and I get to share my profession and every single time someone sends me a "high schooler" interested in athletic training who I get to chat with, is an advocacy day. I'm trying to work with local athletic training programs for the Chiefs to become a unique clinical site.
Reflecting this year's theme of "There's an AT for That," if you had to pick one essential skill ATs bring to all settings, what would it be?
Professional medical care. At the root of us is the fact that we provide care that can save a life, return a body to function and advocate for mental health care. We are medical professionals with training in prevention, emergency care, clinical evaluation, rehabilitation and all the administrative aspects of the profession.
How are you celebrating National Athletic Training Month this year?
I use March as a time to reconnect with the AT community specifically in schools. So, I will be visiting a couple of local universities where I'll chat with students and looking for potential relationships for clinical sites.