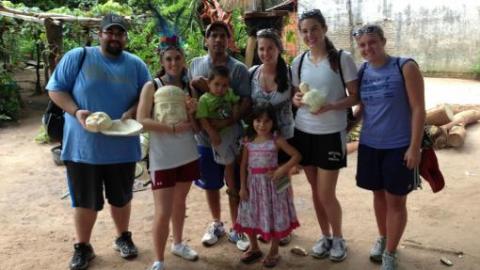 A team of 25 college athletes built schools, competed against foreign teams and raised awareness about athletic training during their spring break while many other college students partied on the beach or slept off mid-term exams.
Allan Parsells, MS, ATC, assistant athletic trainer at Stevens Institute of Technology, went with the women's soccer team to Tobati, Paraguay, to play soccer and train local physicians how to be present on the field. The athletic program hopes to travel to Paraguay every four years. Parsells hates flying and had never been out of the country before, compared to his adventurous, globe-trotting wife. He was nervous about leaving the region he had grown up in.
"I wasn't really too familiar with the whole thing because I'm not a world traveler," Parsells said. "Medical areas were called pharmacies and many of the places, and if they were in the U.S., no one would go to them. It was very primitive."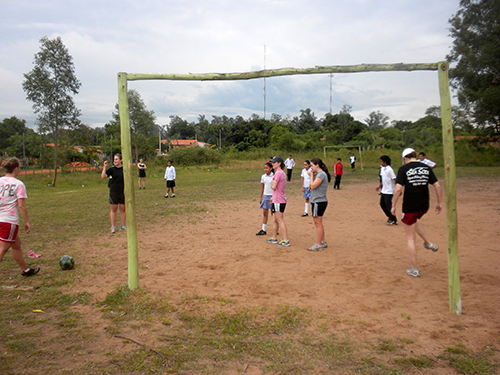 Parsells and his team competed against women's teams in Paraguay and volunteered their time for community service. They crushed bricks for construction of classrooms and played with children who were part of Team Tobati, the private school project and nonprofit that owned their housing. Team Tobati is a volunteer-run nonprofit organization dedicated to improving the lives of children in Tobati, Paraguay through building schools, funding social programs and supporting medical facilities.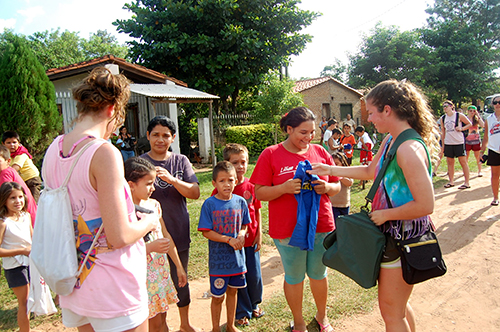 Before arriving in the South American country, Parsells knew practically no Spanish and relied on a translator to evaluate injuries while he was working with the women's teams from Paraguay. He said for the first couple times he would run to assist a player, he would forget about the language barrier. Eventually he had to alter the way he normally would diagnose injuries. "I had to do evaluations in the most laymen terms," Parsells said. "It wasn't a typical day at work. I couldn't ask where it hurt or what happened. And it was tough to treat athletes without their medical history."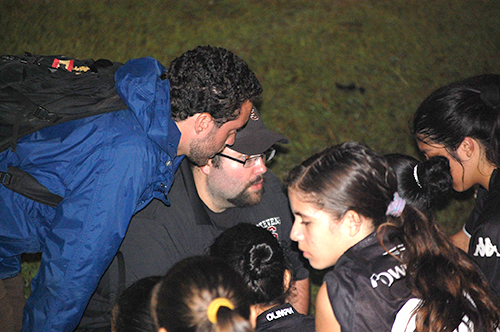 Parsells, center, speaks with the team from Paraguay with the help of a translator.
As the only athletic trainer traveling with the U.S. team, he also had to worry about the girls' diets. They had no idea what to expect in terms of food since their housing provided meals, and Parsells was worried the cultural difference in diet would take a toll on his athletes' nutrition. The team even packed protein bars and other snacks, but Parsells said he shouldn't have worried. Paraguayan fare was milder than they expected and packed the right amount of nutrients to still be healthy.            
Parsells' presence on the field was a foreign concept to the Paraguay teams. The idea of a medical professional devoted simply to athletic injuries does not exist in the country. "It was difficult to find Spanish words for what I was doing, and they had absolutely no idea what I do," Parsells said. "They just called me doctor. The concept doesn't exist in Paraguay. They received more attention from me than I think they've ever gotten from any medical professional."
Parsells also got the chance to meet with the Paraguay ambassador, who immediately understood the profession when Parsells introduced himself. The ambassador even asked Parsells to diagnose him on the spot for pains in his leg. Parsells sat him down, evaluated him and gave him treatment advice. "That was definitely one of the cooler things [about the experience] because I didn't have to explain to him what I did," Parsells said. "[Our name as a profession is] starting to get out there and it's nice to have some recognition."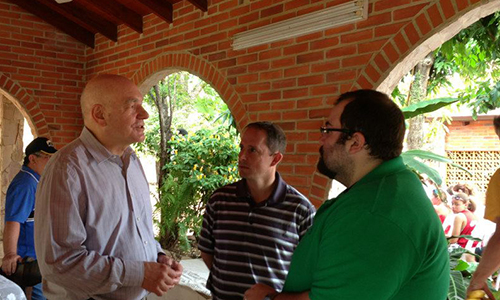 Parsells meets the Paraguay ambassador
Even though Parsells prefers the comforts of his home and speaking a language he knows, he appreciates the lessons he learned during his trip to Paraguay. "It wasn't about the sport, it was about the opportunity," Parsells said. "You're doing this to help other people and being part of this was really interesting. I'm thankful because I was not happy to go at first. I now have a different perspective."
Written by Nadia Hill, former NATA News intern
Photos courtesy of Allan Parsells, MS, ATC

Editor's Note: Parsells is no longer working at the Stevens Institute of Technology (although he was in that role when we did the reporting for this story). He's currently the head athletic trainer at Oratory Preparatory School in Summit, N.J.