March 19, 2014 by
JordanG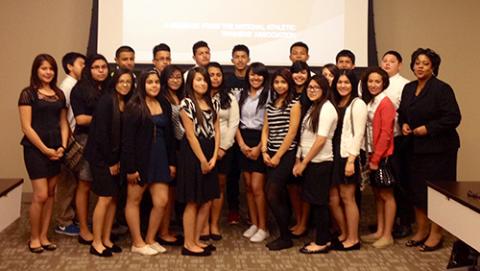 It's been a fun day at the office today! We just said goodbye to 22 fun and energetic 8
th
graders who visited our office as part of the NATA Job Shadow Day tradition. The students from Zan Wesley Holmes, Jr. Middle School in Dallas came to our NATA headquarters to learn more about athletic training and working for associations.  
After playing an icebreaker scavenger hunt with staff to kick things off, the students listened to NATA Associate Executive Director Rachael Oats explain the profession of athletic training and how our association helps support ATs across the country.  
NATA's AT-in-Residence Michelle Vryhof, MA, ATC, LAT, PES, spoke with the students about our recent efforts to improve youth sports safety and her experience as an athletic trainer.  Human Resources Director Michael Anto gave the group some job interviewing tips, and then they took a tour of the new office building.  
Following a pizza lunch, the students were broken into smaller groups to shadow certain NATA employees. I had a fantastic time talking to three girls about athletic training, journalism and how the two are tied together through our communications team. We showed them our
latest video
about ATs for NASA and explained how our team worked to produce a NASA media package that includes a
cover story in the April 2014 NATA News
, a video, photography and
social media
.
Each student picked her favorite cover of the magazine, and we discussed what makes a successful cover and what was so powerful about those particular stories they chose, all of which involved the dramatic lifesaving efforts of our members. They asked so many great questions about NATA and the athletic training profession, and our time together passed too quickly!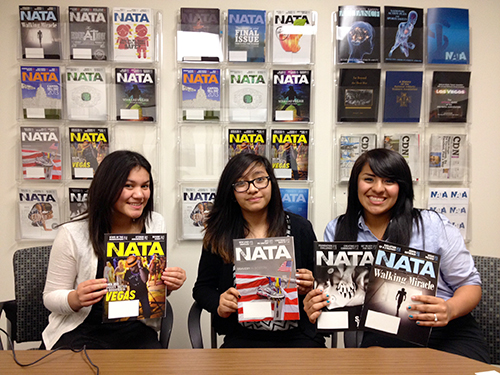 We'd like to thank Zan Wesley Holmes Middle School for visiting us today and allowing us to spread the word about the great profession of athletic training.  
Posted by Jordan Grantham, NATA Communications Manager and Editor-in-Chief of the NATA News  (
jordang@nata.org
)