October 28, 2021 by
Claire Williams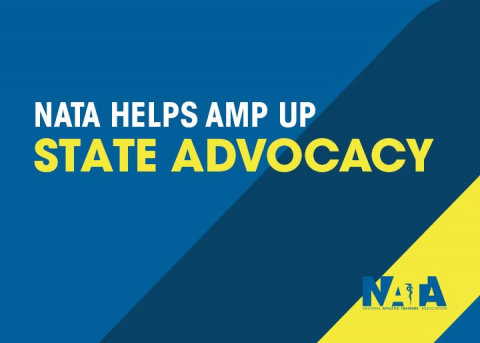 Representation of athletic trainers as health care providers in legislation takes a lot of work, and it can't be done alone. At the state level, updates to practice acts or regulatory laws limiting who ATs can treat can have a big impact on athletic training representation at the federal level, as well. 
As a state association, though, knowing where to start can be tough, which is why NATA provides members with exclusive resources and the expert support needed to achieve success at the state level. An investment in NATA membership ensures that members have access to resources that support them in all legislative advocacy efforts, from their state Capitol building all the way to the White House.
In the November NATA News, that support was spotlighted in the article "Success at the State Level Can Have National Impact." The Alabama Athletic Trainers' Association Governmental Affairs Committee worked closely with NATA to gain support from state legislators that led to a near-unanimous passing of an updated state practice act.
"This took a lot of planning, a lot of work, an incredible amount of hours," ALATA Governmental Affairs Chair Chris King, LAT, ATC, said. "And we couldn't have done it without NATA's help."
The ALATA Governmental Affairs Committee led the statewide advocacy efforts that culminated in updating the state practice act's provisions for the first time since 1993.
The efforts of ALATA are an impressive example of how advocacy can go right. The association's use of NATA resources and guidance available exclusively to members show how education, collaboration and dedication work to expand the athletic training profession at the state level.
NATA has the resources to help with any legislative initiative. Some of these resources include:
Bill tracking
Research and policy analysis
Information for your state government affairs committee
Yearly grassroots advocacy calendar
Best practice guide to hiring and employing a lobbyist
Tips on effectively communicating with legislators
Leave-behinds for legislators
Sample resolutions
Templates for writing letters to legislators
Tips for legislative advocacy on social media
NATA also covers state legislative advocacy through Legislative Boot Camps. These two-day, eight-hour workshops are hosted by the NATA Government Affairs Department as an exclusive member benefit.
The ALATA Governmental Affairs Committee attributed their legislative success to the resources and knowledge introduced during the Legislative Boot Camp.
"We had no idea how wonderful that was going to be," King said. "We thought we knew some stuff, but the boot camp was eye-opening to the resources available to us through NATA.
"We were able to get to victory because of those resources."
When they're ready, NATA can help state associations utilizing state-of-the-art software, at no cost to them, to provide wider and more targeted opportunities that could push them over the finish line.
Members also have access to the NATA Legislative Alert Center, where the NATA Government Affairs staff work with state associations to launch legislative advocacy campaigns, enabling supporters of specific legislation to quickly and easily contact their legislators. These campaigns can be shared via social media and through hyperlinks to reach even more supporters of the athletic training profession outside of NATA.
However big or small the goal, the NATA Government Affairs Department is available to help members find legislative success for their states. For more information about state advocacy resources and support available to members, visit the State Legislative Affairs webpage or contact State Government Affairs Manager Deanna Kuykendall in the NATA Government Affairs Department at deannak@nata.org.
RENEW YOUR NATA MEMBERSHIP
NATA is working every day to ensure you have the advocacy, professional growth, connection and support needed to keep athletic training essential to health care. By being an NATA member, you are investing in yourself, your profession and your future. Visit the NATA Member Benefits webpage to learn more about what comes with being an NATA member and renew your membership today. The deadline to renew is Dec. 31.
NATA is offering installment payment options. In order to utilize the installment plan to pay for your membership renewal, your first payment must be received by Oct. 31.
Don't let money get in the way of investing in yourself and your profession. Contact Member Services at 800.879.6282 or membership@nata.org to see how we can help.