June 16, 2021 by
Beth Sitzler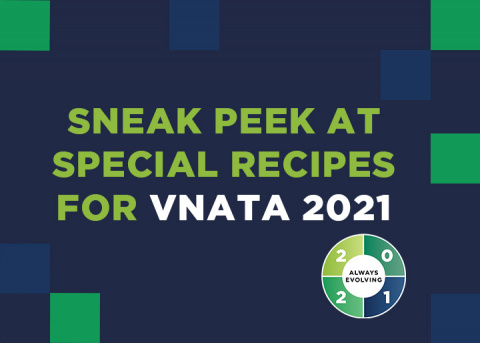 With more than 70 sessions covering an array of topics important to the athletic training profession, the 2021 NATA Virtual Clinical Symposia & AT Expo has something for every interest and skill level. Attendees can earn up to 25 CEUs, with the live educational programming taking place June 22-24 and on-demand through Sept. 30.
Those who want to learn more about athlete nutrition should attend "Hot Topics in Sports Nutrition: Expert Dietitian Panel" at 11:15 a.m. CDT June 22. During this session, presenters and members of the Academy of Nutrition and Dietetics' Sports and Human Performance Group Dana White, MS, ATC, RD, Jennifer Doane, RD, CSSD, ATC, and Katie Knappenberger, RD, CSSD, ATC, will share their areas of expertise and facilitate conversations about the dangers of low energy availability, supplement evaluation and nutrition for injured athletes, among other topics.
"Our session discusses the most current topics in sports nutrition including some of the newest research on collagen and creatine supplementation; nutrition and mental health; the needs of female athletes; and how COVID-19 changed how sports dietitians operate," White said.
During the session, White will conduct a live cooking demonstration right from her kitchen to give attendees an up-close look at how these concepts can be incorporated into everyday life.
"We wanted to include some practical application of these concepts in the form of food and recipes," she said.
Keep reading for a peek at the recipes that will be featured and demonstrated during "Hot Topics in Sports Nutrition: Expert Dietitian Panel." Visit the Education page of the convention website to learn more about this session and the entire VNATA 2021 educational programming.
Also, the deadline for early registration is approaching! Early registration for VNATA 2021 – $179 for current professional members – ends June 21. After that date, registration will increase to $229 for current professional members through Sept. 30. Current professional members can save an additional $50 by prepaying their 2022 NATA membership dues. For the entire pricing breakdown, more information and to register, visit the convention website.
VNATA Chocolate PB Smoothie Bowl
Welcome to smoothie bowl heaven – this creamy whip of banana, chocolate whey, peanut butter and oats packs in more than 30 grams of protein for post-workout recovery or a pre-sleep amino acid boost. Choose nutrient-dense toppers for texture and some extra antioxidants.
Makes 1 large smoothie bowl
4 Tbsp unsweetened almond milk
1 scoop chocolate whey protein powder
1 1/2 frozen bananas, broken into pieces
1/4 cup oats
1 Tbsp peanut butter
Suggested toppings: granola, berries, nuts, carob chips, coconut chips, chia seeds, orange slices
Place ingredients in a blender and blend until smooth, stopping to scrape ingredients down with a spatula, if needed. Add additional almond milk one tablespoon at a time if needed to reach desired consistency.
Scoop into a bowl and top as desired.
Nutrition info per serving – Calories: 495; Total Fat: 13g; Saturated Fat: 3g; Total Carbohydrate: 66g; Protein: 33g; Sodium: 184mg; Cholesterol: 60mg; Fiber: 9g
Tropical Creatine Preworkout Smoothie
A refreshing way to slurp your daily dose of creatine – with some pineapple and mango. Whip this smoothie up for a pre-workout snack or enjoy with a high-protein meal post workout. Choose a creatine product that is tested by a third party to ensure product safety and quality. You can also skip the creatine all together.
Makes 1 smoothie (16 fl oz)
3/4 cup coconut water
5g Creatine Monohydrate powder
1/2 cup frozen mango chunks
1/2 cup frozen pineapple chunks
1/2 medium frozen banana
1/2 cup nonfat plain Greek yogurt
In a separate cup, mix creatine and coconut water, then pour into blender.
Add mango, pineapple, banana and yogurt and blend until smooth.
Pour into a glass and serve.
Nutrition info per serving – Calories: 284; Total Fat: 1g; Saturated Fat: 0g; Total Carbohydrate: 49g; Protein: 12g; Sodium: 89mg; Cholesterol: 0mg; Fiber: 4g