December 9, 2021 by
Beth Sitzler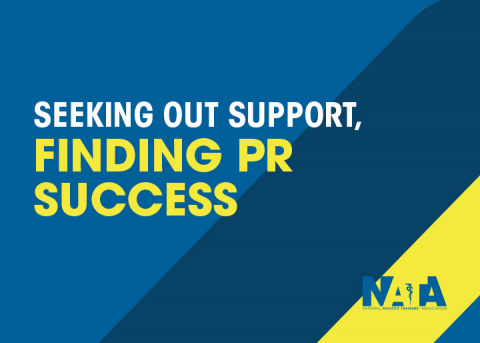 The November and December NATA News highlight NATA's many advocacy efforts, including the work being done to increase the public's understanding of the athletic training profession through media relations and strategic partnerships.
In addition, NATA offers members resources and support to assist in their local and regional PR efforts, ensuring all understand the important role ATs play in their patients' health, safety and well-being.
When Dillon Hyland, DAT, LAT, ATC, took over as chair of the Utah Athletic Trainers' Association Public Relations Committee in the winter of 2020, he set out to educate himself on the ins and outs of PR.
"I had questions about PR," he said. "It's not something I've ever done professionally before, so I was trying to find resources and avenues to better understand what I was supposed to do in my position."
Searching the NATA website, he came across a notice about the NATA PR team's extended office hours, during which members could get help with planning, brainstorming and reviewing their National Athletic Training Month efforts as well as other PR support. He set up a time to talk with NATA Public Relations Manager Honey Hamilton to learn more.
"I wanted to figure out what we had and to make it something that was more systematic so we could start to create an equation or a process," Hyland said. "I also wanted to establish some other goals."
Prior to his appointment as chair, the UATA PR Committee invested its efforts in large, yet sporadic, public-facing initiatives, such as billboards and a city bus wrap, as well as several member-facing communication channels, including a Facebook page and newsletters.
"A lot of our member-facing initiatives were already happening," he said. "We felt that we could highlight the member-facing things as needed, but that we didn't need more content that was member facing. But we did need more content to educate the public and to try to create awareness around athletic training in general, so that's what we've been doing."
Currently, to help educate the public, the UATA PR Committee is working on a series of press releases that examine the "top five things to know" about a particular health care issue or topic while highlighting the athletic trainer, such as its press release on ACL injuries, "Five Things To Know About Preventing the Most Costly Injury in High School Sports," which was published by St. George News, a regional outlet, in September.
"When coming up with these lists, we try to think about, 'What are the top five things we want the general population or specific people to know about what we want to talk about?'" Hyland said.
"Once we decide on a topic, it's then, 'What do we, as a committee, think are the top five things that we want people to know?' Once that happens, and we've gotten the skeleton of our top five … I'll draft the first draft of the press release with those top five things. I'll use credible sources – NATA position statements, journals – to find the information that supports what we already know."
Hyland said the NATA PR team has helped review the press releases, asking questions and providing feedback from a non-AT perspective to ensure the committee is presenting reporters and media outlets with information that will appeal to the public.
"[They'll] ask great questions that an AT wouldn't necessarily think to ask," Hyland said. "It's great to get outside perspective in relation to a particular injury or a particular press release."
To ensure all facets of media are covered, the UATA PR Committee created Instagram and Twitter accounts that focus on reaching the public.
"We try to create social media content around those top five lists – that way we can create social media content in addition to traditional media content," Hyland said.
The committee is currently working on a "top five things" press release on concussions and what parents need to know as well as looking ahead to other topics to cover throughout the year.
"In June or July, we'll get one going on exertional heat illness," Hyland said. "In March, we'll do one around National Athletic Training Month or highlighting athletic trainers. In January or December, we'll do something around a New Year's resolution on fitness or training. So we try to make them timely."
The UATA PR Committee is also creating a process to gather members' stories, such as those related to a lifesaving incident, so they can be shared with the public, further showcasing the importance of the AT to the community.
"We're trying to create more grassroots efforts to hear about those things that way we can highlight the athletic trainers in the moment those things happen," Hyland said.
In the year since taking over as chair of the UATA PR Committee, Hyland has gained a better understanding of PR and how to utilize traditional media and social media to share the athletic training story.
"It's given me a lot more perspective on how individuals within the media respond or care about what we're trying to stay," he said. "With our top five lists, if I submitted them how I originally drafted them, I don't think anyone would have picked them up. So, understanding how to curtail my language so it's well-received and valued has been great.
"[NATA] has really helped us refine our vision and thought process because when you hear about social media, marketing and public relations, you see all of these massive initiatives, and you don't necessarily know where to start. [The team has] been really helpful in showing us that it doesn't have to be this multi-thousand-dollar process; that if we have a free Canva account and something to say, we can just take a little time and share it that way."
While small steps can lead to big accomplishments, it can't be done without a dedicated team working toward the same goal.
"I wouldn't be able to do this without other people who are passionate about it," he said about the UATA PR Committee. "I would encourage if anyone is interested in PR, even if you don't know where to start, reach out to your state association and figure it out."
As for exactly how to figure it out, Hyland has some suggestions.
"Start by reaching out to the national office," he said. "In addition, reach out to other PR chairs who seem to be doing a good job. Often times, I'll look at other state associations or reach out to them to see what they're doing."
Visit the NATA PR webpage for more information about NATA's PR efforts and resources as well as the NATM webpage for NATM-related resources.
RENEW YOUR NATA MEMBERSHIP
NATA is working every day to ensure you have the advocacy, professional growth, connection and support needed to keep athletic training essential to health care. By being an NATA member, you are investing in yourself, your profession and your future. Visit the NATA Member Benefits webpage to learn more about what comes with being an NATA member and renew your membership today. The deadline to renew is Dec. 31.
Don't let money get in the way of investing in yourself and your profession. Contact Member Services at 800.879.6282 or membership@nata.org to see how we can help.