August 5, 2020 by
Beth Sitzler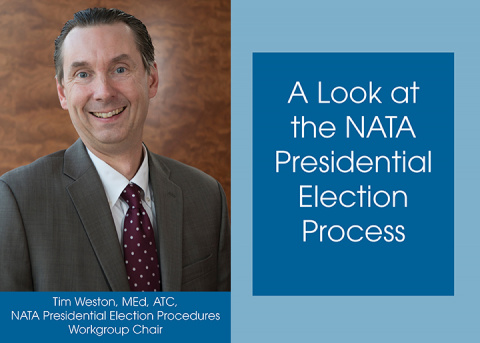 By Tim Weston, MEd, ATC, NATA Presidential Election Procedures Workgroup Chair
As chair of the NATA Presidential Election Procedures Workgroup, I am excited to report that 24.9 percentage of eligible members voted in this year's NATA presidential election, compared to 21.9 percent during the 2017 election.
This election cycle has been like none other conducted by NATA. At the direction of the NATA Board of Directors and NATA President Tory Lindley, MA, ATC, the NATA Presidential Election Procedures Workgroup was formed to improve the procedures around the NATA presidential election. Composed of current and former NATA district directors, our workgroup examined the entire election process – from application review to campaigning – to see what was working and what could be improved to enhance member engagement while maintaining fairness and consistency throughout.
Ultimately, as workgroup members, we wanted to create a presidential election process that was not only fair and consistent, but empowered members to do their part to shape the direction of NATA and the athletic training profession.
One of our first orders of business was to examine and adjust the presidential nomination and campaign timeline. At our recommendation, the NATA Board of Directors moved the election cycle from June through September to January through July. This new timeline gave the candidates six months to campaign and share their platform and vision for the future with members.
We suggested moving voting to July to build off the momentum of the NATA Clinical Symposium & AT Expo, which was originally slated for June. We see voting in July becoming a special event month similar to National Athletic Training Month in March. We want all members to know that every three years, July is the time to make your voice heard and vote for our next president.
Not only did this new timeline allow the candidates more time to campaign and connect to members, it allowed NATA to more than double its efforts in promoting the election and candidates. These efforts included four candidate Q&As in the NATA News throughout the spring and 112 social media posts shared on NATA's social media channels Jan. 25 through July 31. On social media, in total:
57 posts were shared on Twitter, resulting in 375,498 total impressions
49 posts were shared on Facebook, resulting in a reach of 259,102
Six posts were shared on Instagram, resulting in 563 likes
Although the COVID-19 pandemic eliminated the opportunity for face-to-face engagement, NATA continued to provide members with a host of opportunities to interact in the election process virtually.
From May through June, five virtual NATA Chats Q&As with the candidates were conducted, providing members an avenue to submit questions for the candidates. These livestreamed events, which were recorded and shared on Facebook and the NATA website, featured questions from members covering a range of topics, from issues facing the student population to cultural competency. In total, the NATA Chats presidential candidate Q&As had a reach of 62,048 on Facebook.
The candidates also answered member-submitted questions during Face Time '20. An election staple, Face Time '20 was conducted on the 2020 NATA Virtual Clinical Symposia & AT Expo platform live for VNATA 2020 attendees. A recording was also shared on Facebook and the NATA website, allowing members one last chance to hear from the candidates before casting their vote. 
In everything done to inform members about the candidates and their platforms, fairness and consistency remained at the forefront. We made sure all NATA communication venues were utilized for both candidate's messaging and that each candidate was given the exact same space, time and opportunity to answer the questions posed to them. The workgroup, in conjunction with NATA staff, also gave the candidates guidance for appearances with both NATA and non-NATA entities, again, to ensure fairness and consistency.
Now that our new president-elect has been selected by the NATA members, the board of directors has charged the workgroup with conducting a post-election review of the new system we put into place to see where further improvements can be implemented. The workgroup looks forward to continuing these conversations and collaborations to ensure the NATA presidential election remains a fair and consistent process and that every eligible NATA member feels empowered to use their voice.
On behalf of the workgroup, I'd like to thank both candidates, Kathy Dieringer, EdD, LAT, ATC, and Katie Walsh Flanagan, EdD, LAT, ATC, for their dedication to the athletic training profession. I'd also like to thank all of the members who voted for the 15th NATA president. If you have any questions about the election or a suggestion for the next presidential election cycle, email election@nata.org.