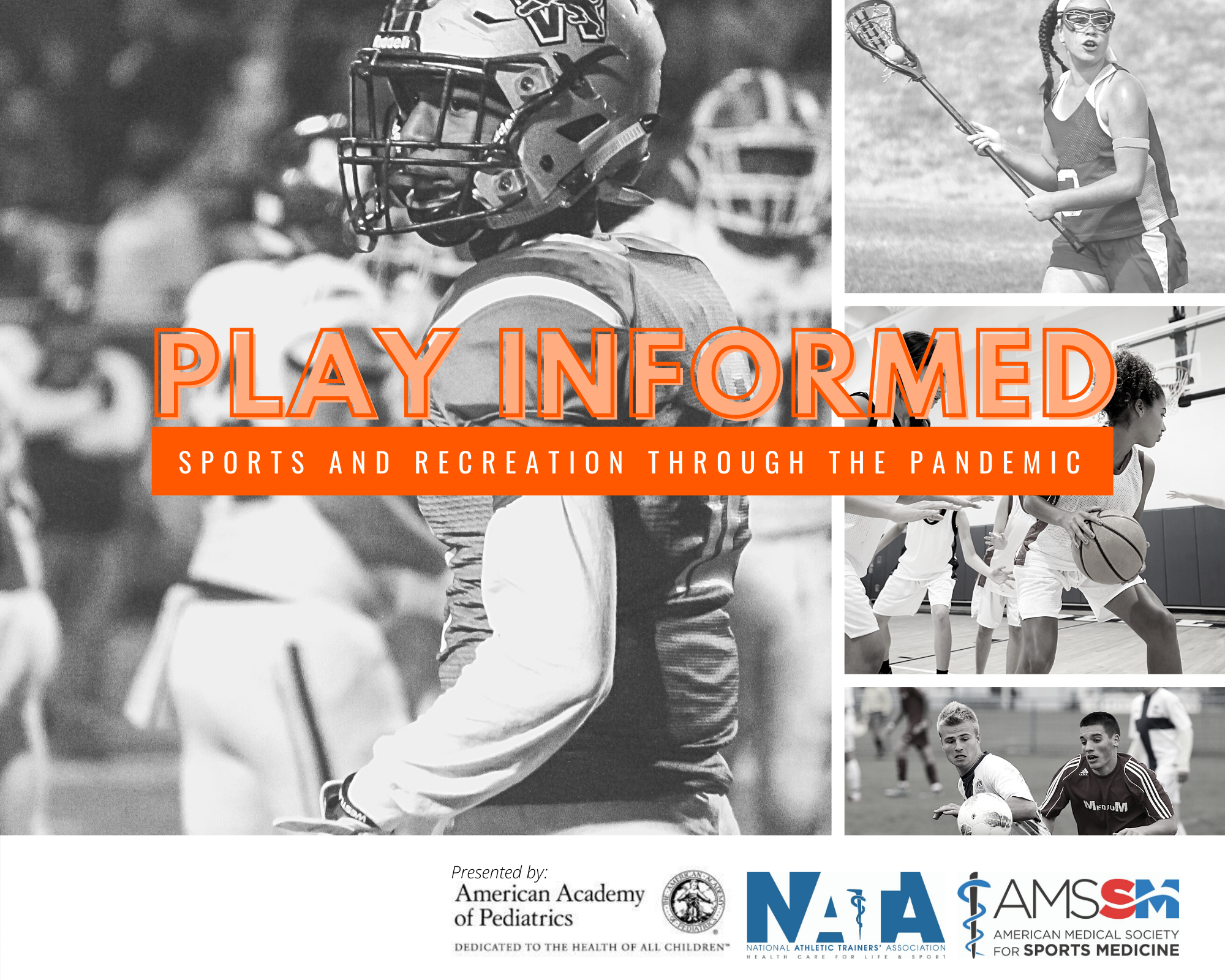 Play Informed Sports and Recreation through the Pandemic:
Education Sessions for Parents, Guardians and Community Leaders
Register to attend three upcoming educational events hosted by the American Academy of Pediatrics (AAP), the American Medical Society for Sports Medicine (AMSSM) and the National Athletic Trainers' Association (NATA). These events are designed to help parents, guardians and community leaders make informed decisions about sports participation during the pandemic. Reserve your seat for the opportunity to talk with leading medical experts in pediatrics, sports medicine and athletic training on the state of safety in sport and COVID-19. Submit your questions to join the discussion. 
Session One: Understanding the Risks and Benefits of Sports Participation during the Pandemic   
During this session, attendees will learn about the risks and benefits of playing sports during the pandemic, including the physical, mental and psychosocial effects in youth athletes. This session will help parents make an informed decision about sports participation and better understand the risk factors in sport and COVID-19. 
Date: Tuesday, August 11, 2020
Time: 7:00 - 8:00 PM CST
Cost: Free 
Click here to register for Session One
Session two: Safety Precautions for You and Your Team   
 During this session, attendees will learn about safety precautions that families and youth athletes should take prior to participation and before, during and after a practice or game. Attendees will also gain an understanding of what health and safety precautions that they should expect from their school or team, including use of face coverings and how to address concerns with school or team leaders. 
Date: Wednesday, August 12, 2020
Time: 7:00 - 8:00 PM CST
Cost: Free 
Click here to register for Session Two 
Session three: Navigating Sports during COVID-19 for Elite Athletes  
Youth athletes who are approaching graduation and advancing to more elite levels of play, such as collegiate athletics, face unique circumstances during the pandemic.  Panelists will discuss challenges and concerns related to schedule changes, detraining and the transition to college campuses. 
Date: Thursday, August 13, 2020
Time: 7:00 - 8:00 PM CST
Cost: Free 
Click here to register for Session Three
Along with the National Athletic Trainers' Association, this information was developed jointly by:​