Thursday, November 16, 2023
Contacts:
Robin Waxenberg                                          
Robin Waxenberg & Associates                     
robin@robwax.com
917-301-1350              
Jessica Blankenship
NATA
Jessicab@nata.org
512-923-2396    
FOR IMMEDIATE RELEASE (NOVEMBER 16, 2023)
NATIONAL ATHLETIC TRAINERS' ASSOCIATION
RECEIVES AMERICAN PUBLIC HEALTH ASSOCIATION
 PUBLIC SERVICE AWARD
Presentation takes place during APHA Annual Meeting and Expo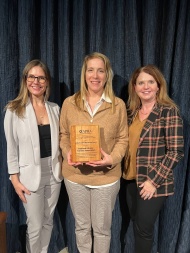 CARROLLTON, TX – The National Athletic Trainers' Association (NATA) received the American Public Health Association Injury Control and Emergency Health Services (APHA ICEHS) Section's 2023 Institutional Public Service Award on Tuesday, Nov. 14 during APHA's Annual Meeting and Expo in Atlanta.
"NATA was recognized for its dedication, leadership and contributions that have had a significant and long-term impact on the field of injury control and emergency health services among other extraordinary considerations," said ICEHS Chair Lauren Pierpoint, PhD.
In July, NATA's Athletic Training and Public Health Task Force, in collaboration with ICEHS, hosted an inaugural webinar series - The Athletic Trainer and Addressing Suicide in Secondary and Collegiate Student Athletes. Part of the association's ongoing Timely Topics program, which addresses hot-button issues for its members and others, the three-part series included engaging, high-level conversations about the scope of the problem, responding to mental health crises and suicide prevention.
"We are so honored to receive the public service award and know it is a direct reflection of this inter-association effort as we continue to strengthen our relationship with APHA," said NATA President Kathy Dieringer, EdD, LAT, ATC. "NATA is committed to best practices across the landscape of public health and we look forward to exploring opportunities with APHA on programming, research, education and advocacy to ensure the mental and physical health of athletes or those that are physically active, across the age span. Athletic trainers are often lifelines to those individuals and are critical in steering them to get the care they may need."
NATA was also recognized for initiatives that promote the health of physically active populations and advocate for the public health advantage of access to ATs; leadership in developing statements on public health issues that affect the physically active; partnership with injury organizations on the creation of educational tools; and its awards and funding opportunities that support scientific knowledge and research.
About NATA: National Athletic Trainers' Association – Health Care for Life & Sport
Athletic trainers are health care professionals who specialize in the prevention, diagnosis, treatment and rehabilitation of injuries and sport-related illnesses. They prevent and treat chronic musculoskeletal injuries from sports, physical and occupational activity, and provide immediate care for acute injuries. Athletic trainers offer a continuum of care that is unparalleled in health care. The National Athletic Trainers' Association represents and supports 40,000 members of the athletic training profession. Visit nata.org for more information.
About APHA: American Public Health Association
The American Public Health Association champions the health of all people and all communities. We strengthen the profession of public health; share the latest research and information, promote best practices and advocate for public health issues and policies grounded in research. We are the only organization that combines a 140-plus year perspective, the ability to influence federal policy to improve the public's health and a member community from all public health disciplines and over 40 countries. APHA publishes the American Journal of Public Health and The Nation's Health, convenes an Annual Meeting and Exposition where thousands of participants share the latest public health research and leads public awareness campaigns such as Get Ready and National Public Health Week. Learn more at www.apha.org.
# # #