February 6, 2017 by
Todd Christman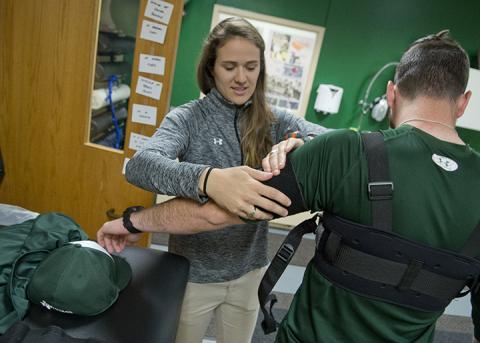 Since its inception, the athletic training profession has upheld a tradition whereby aspiring ATs acquire knowledge from professionals already in the field. In the current model of athletic training, it has become essential to blend a challenging and rigorous formal education with the practical application and clinical decision-making skills needed to become a competent athletic training professional. This would not be possible without the preceptors each Athletic Training Program needs and relies on as part of its formal curriculum. The NATA Preceptor Award seeks to recognize up to two ATs annually who have served as preceptors for an Athletic Training Program; who consistently go above and beyond to help mentor students; and who work to improve the future of our profession by preparing the students of today to become the professionals of tomorrow.
Candidate Criteria
Individuals must meet or exceed the following requirements for consideration:
Current certified membership in the National Athletic Trainers' Association
Service as a preceptor for a CAATE accredited institution for a minimum of three (3) years
Demonstrated evidence of being a quality preceptor, including (but not limited to):

Proof of contribution to student learning (e.g., student program, student event organized by the preceptor, etc.)
Student evaluations
Program director/clinical education coordinator evaluations
Letters from former students
Preceptor's peer recommendation with evidence (from a colleague in their setting)
Supervisor evaluations that coincide with being a preceptor

Progressive work towards professional development (CEU) activities that coincide with being a quality preceptor (e.g. Master Preceptor Module, etc.)
Service as preceptor for the same institution providing a recommendation for a period of at least three (3) years
Application Guidelines
Any NATA member who is an athletic trainer, student, administrator or faculty member at a college/ university can nominate a preceptor for this award.
Each nominator (in collaboration with the nominee) is responsible for compiling a dossier supporting the nomination that includes:
Three letters of support for the candidate's nomination. One letter can be from the nominator, with other letters coming from AT program faculty and/or administration and current and/or former students;
The candidate's curriculum vitae; and
 A summary statement of the candidate's contributions and impact on athletic training education, written by the athletic training program's clinical education coordinator or program director.
The selection committee will evaluate all candidates using a weighted scale to assess the criteria outlined in this document. Of specific importance is the candidate's overall influence on athletic training clinical education on behalf of athletic training students and the athletic training program. When completing the dossier keep this in mind and provide examples of artifacts of clinical education teaching, supervision and mentorship (e.g., student evaluations, clinical education coordinator evaluations, etc.) to support each criterion.
If the candidate is not selected the initial year of application, his/her dossier will remain on file for a two-year period for consideration the following year.
No more than two candidates may win the award in a calendar year. In a given year if no qualified candidates are nominated, the award will not be awarded. Winner(s) will be notified of their selection and later promoted through appropriate NATA media channels.
Nominations are due Feb. 17.) All nominations and related materials need to be submitted via email to Sidney Fuller at NATA (sidneyf@nata.org)
Selection Committee
The section committee is comprised of two members of the Professional Education Committee and two members of the Post-Professional Education Committee. The respective committee chairs will select their representatives. The Executive Committee for Education chair will vote in the event of a tie.
Presentation
NATA Preceptor Award recipient(s) will receive formal recognition at the NATA Clinical Symposia in June.
Administration
The NATA Knowledge Initiatives department will handle all administrative functions associated with the award, including selection committee coordination, opening and closing the nomination period, storing all nomination information, establishing and maintaining the budget, and coordinating the award presentation at the NATA Clinical Symposia.
All nominations and related materials need to be submitted via email to Sidney Fuller at NATA (sidneyf@nata.org) by Feb. 17.