September 20, 2023 by
Lydia Hicks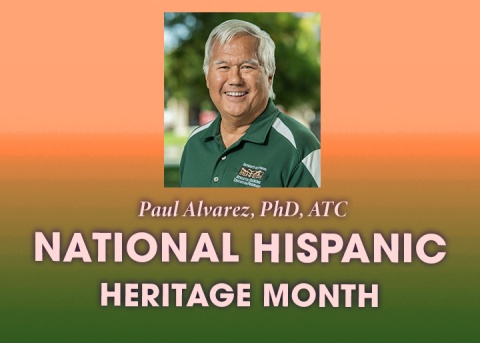 In honor of National Hispanic Heritage Month Sept. 15-Oct. 15, the NATA Now blog is highlighting some of our athletic training leaders at the state, district and national levels.

"Introduction to Athletic Training," an elective course Paul Alvarez, PhD, ATC, took as a physical education major at California State University in Sacramento, wasn't the only impetus for his AT interests.
Having been injured in a steeplechase track and field competition, he came under the care of his college's athletic trainer, Gerald Bell, AT Ret.
"He not only took care of me and got me back to competition, but he also inspired me to pursue the profession," Alvarez said.
Since his encounter with the profession, Alvarez's AT résumé has included service and leadership activities, ranging from the California Athletic Trainers' Association inaugural membership chair to head athletic trainer for the USA Team sent to the 2023 World University Games in Chengdu, China.
Now a university professor of kinesiology at the University of La Verne, Alvarez gives insight into the importance and influence of his servant leadership.
What was your first volunteer position within the athletic training profession and why did you get involved?
At the 1990 CATA annual meeting, former CATA President Brian Barry, ATC, asked for volunteers to take over the duties of membership chair from State Secretary Hazel Ando, MS, ATC. As a still-young athletic trainer, I was inspired by meeting and working with other state and district leaders at the time, including Andy Paulin, LAT, ATC, Ky Kugler, EdD, ATC, Bill Chambers, AT Ret., Julie Max, MEd, ATC, and Wendy Runley, AT Ret., along with many others.
Tell us about your current position as FWATA Ethnic Diversity Advisory Committee member. What do you hope to accomplish in this role?
As a committee member, my role is to support the current chair of the committee, Alejandra Merriman, DAT, LAT, ATC. She has lots of good ideas, and the members need to support that vision.
How has volunteering helped you grow personally and professionally?
Step one in professional growth is networking. But to really experience all a profession has to offer, you have to volunteer. It doesn't have to be a committee chair or leadership position; every group needs the people on the ground who get things done and carry out the vision of the organization. In my case, being part of the FWATA Convention Committee led to an invitation to be part of the medical staff for the USA Team sent to the World University Games in Belgrade, Serbia, in 2009. Thanks to that initial start, I have now been to seven World University Games in seven countries. Not only that, but I was also able to extend an invitation to a University of La Verne athletic training alumni to be part of the staff this past summer in Chengdu, China. I didn't start volunteering to get that opportunity, but I would have missed out had I not done so.
Why is representation in leadership important and how does it impact the profession?
Not only our patients, but also our young professionals, need to see people who look like them and come from similar backgrounds. Our Master of Science in athletic training students at La Verne come from diverse backgrounds, and I hope they see that they can achieve whatever professional goals they have because of others like them who have done so. 
Why should ATs get involved in leadership and service?
NATA has a professional staff, but the groundwork at the national, district, state and local levels is done by servant leaders. If no one wants to serve, then nothing gets done. The demands of a job as well as personal demands can take up all of one's time and make additional demands seem impossible. However, those who have just a few spare minutes or more to give back can find it very rewarding and it keeps the profession and our organization viable. It's up to us.
What advice do you have for other athletic trainers who want to give back to the profession? 
Start small. Ask around. Network and find out where your individual talents can be used, and give back.