May 4, 2023 by
Lydia Hicks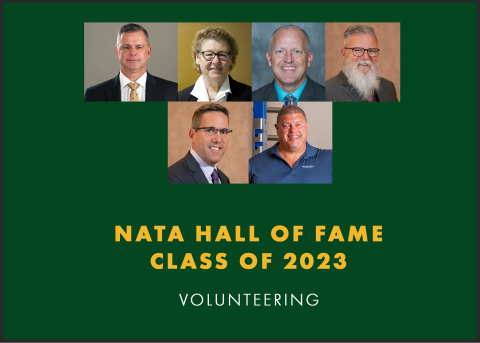 The NATA Hall of Fame is the pinnacle of recognition for members, honoring a select group of athletic trainers who have shaped the athletic training profession and exemplified what it means to live a life of service.
More than a ring, green jacket and plaque on the wall, the NATA Hall of Fame is an honor bestowed on those who have spent countless hours perfecting their skills, mentoring the next generation of ATs and imprinting a lasting impact on the athletic training profession.
The May NATA News featured the class of 2023, highlighting their careers and volunteer achievements, and delves into their journeys as leaders in the profession.
The class of 2023 will be honored and inducted into the NATA Hall of Fame during the 74th NATA Clinical Symposia & AT Expo in Indianapolis.
In this blog, the inductees give insight into volunteering as athletic trainers, sharing what inspired them to give back to the profession and how getting involved benefits them.

RICK BURKHOLDER, MS, ATC
My mentors emphasized it through the years.
LORIN A. CARTWRIGHT, MS, ATC, CAA
Doug Woods, AT Ret., took me to my first educational symposium. I really enjoyed it. He told me that if you enjoy the profession, you must give back to the profession that is going to give so much to you. I volunteered and was given the position of chair of the Michigan Athletic Trainers' Society Professional Education Committee. I had no experience in organizing speakers or putting on a professional education program. I learned on the job!
MARK COBERLEY, MS, LAT, ATC
I was fortunate to have two professional mentors who were both Hall of Famers and really pushed people to become involved to impact the profession in areas they were interested in. Being involved as a volunteer at any level gives you ownership in the profession. If you aren't involved, you will not have a say in the direction the profession moves. The great leaders I have been around all stressed that if you aren't willing to be a part of the solution, you probably don't have the right to complain about the problem. Being actively involved in continuing to help advance this profession in a variety of ways is one of my greatest professional satisfactions.
TONY FITZPATRICK, MA, LAT, ATC
It's not so much a "what inspired me" it is more of a "who inspired me."
Gary Craner, AT Ret., Tom Koto, AT Ret., and Barry Steele, AT Ret., all volunteered and served the Idaho Athletic Trainers' Association, Northwest Athletic Trainers' Association and NATA, and were my inspiration to jump in and serve. All three served as District Ten directors and lit a fire in me about what it means to be an athletic trainer in our association. I came into our national association, sat in the back of the room and watched these amazing leaders move our profession and association forward and jumped at the chance to help! They were and are amazing mentors and I wanted to be like them!
It's hard to describe what I got out of it, but in retrospect thinking about it, along every stop of my service journey, I felt this need to make sure my AT friends and colleagues knew what was available for them to try to make their practice better. I was told that serving meant that I'd be walking around with a target on my back for naysayers to zoom in on; and that was true. I didn't hide the target or hide from members who were angry, dismissive or who asked hard questions. I had no problem having good discussions about what they took issue with regarding the Secondary School Athletic Training Committee, IATA, NWATA or NATA. I learned from Eve Becker Doyle and Tom to take good notes and to get back with answers, even if the answers weren't what they wanted to hear. I still acted and responded. That is what service is about; acknowledgement and getting back with possible answers, for good or bad.
TORY R. LINDLEY, MA, ATC
Despite a lack of opportunity to serve as an AT student, service and volunteerism was modeled to me throughout my time at Michigan State University. Jeff Monroe, AT Ret., Sally Nogle, PhD, ATC, Tom Mackowiac, PhD, ATC, and Dave Carrier, AT Ret., each preached the importance of giving back to the profession while demonstrating it through their own decorated careers of service.
Within a month of starting my full-time job at Hamline University, I accepted Gary Reinholtz's invitation to join the Great Lakes Athletic Trainers' Association Education Program Committee; my career of service now runs uninterrupted through this induction. I have gained so much more than I have given through service and volunteering. The leadership lessons learned, improved self-confidence, communication skills built and problem-solving endurance all pale in comparison to relationships gained through service. I have provided better clinical care, been offered new jobs and laughed a little louder thanks to the relationships built through giving back to NATA and the profession. It has unquestionably changed my life.
PAUL A. ULLUCCI JR., PhD, DPT, ATC
My mentors had all served NATA and they encouraged me to get involved. Once I did, I soon realized that I was meeting some of the best people I would ever know and making friendships that have lasted much more than a career. As I gained more experience as a leader, I felt like I could make things better for the profession and was driven to do so. I feel blessed that I was given the opportunity to meet so many incredible people and serve as a volunteer in the profession I love.