August 29, 2022 by
Lydia Hicks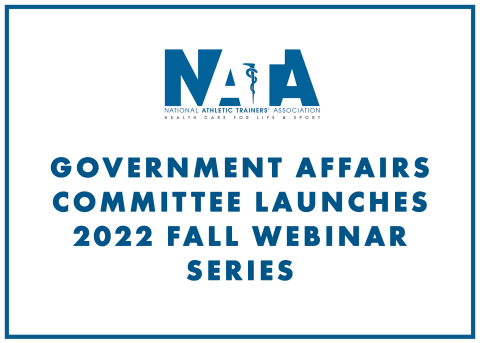 The NATA Government Affairs Committee (GAC) third annual Fall Webinar Series will take place at 10 a.m. CDT Sept. 14, 2 p.m. CDT Oct. 12 and 6 p.m. CDT Nov. 16.
GAC Chair Anna Sedory, MS, LAT, ATC, said that although past Fall Webinar Series have focused on COVID-19-related issues, this year's series will entail an eclectic mix of topics.
To enhance athletic trainers' approach to the 2022-23 legislative session, the topics are planned to help expand the minds of athletic trainers on the value of government affairs to sports medicine, she said.
"I think that it is not well-known by all athletic trainers how important government affairs is to our daily practice," Sedory said. "So, I encourage everybody to come to get a better idea of what government affairs really means and how exciting and fun it can be."
The September webinar will discuss goal setting from a legislative perspective, while the October webinar is designed to help participants connect diversity and access to health care with legislative advocacy efforts, Sedory said. Furthermore, the October webinar will delve into how a bill could increase access to various resources in rural and other underserved populations.
The November webinar will look into recent bills regarding legislative language for different patient populations, settings and other aspects of sports medicine, Sedory said.
Read further to learn more about each webinar.
GOAL SETTING FOR LEGISLATIVE SUCCESS
10 a.m. CDT Sept. 14
Join NATA GAC Chair Anna Sedory, MS, LAT, ATC, as she walks through the new Legislative Plan and After Action Documents and discusses how to make those plans a reality. The webinar will commence by applying common goal-setting models to legislative advocacy planning and finish by discussing effective methods of debriefing after a legislative session. Register now.

IMPROVING ACCESS TO AND FOR ATs THROUGH LEGISLATIVE ADVOCACY
2 p.m. CDT Oct. 12
Attendees are encouraged to bring their questions, experience and knowledge and get ready to engage with NATA GAC Reps. Lucas Dargo, DAT, LAT, ATC, Blaise Kriley, MS, LAT, ATC, and Robb Rehberg, PhD, ATC, NREMT, as they discuss opportunities for athletic trainers to advocate for improving access to athletic training care. Learn about recent legislative efforts to improve access through areas of loan forgiveness, employment in rural areas, improving practice acts and telemedicine. Register now.

HOW SHOULD WE SAY THAT? LEGISLATIVE LANGUAGE FOR THE FUTURE OF AT REGULATION
6 p.m. CDT Nov. 16
As a retired AT and Oregon State Senator, Jerry Krummel, MAT, LAT, AT Ret., has read his fair share of legislation. Join him as he hosts a discussion surrounding legislative language. By learning different types of legislative language and seeing examples of legislative and regulatory language in action, participants will leave with an understanding of how to use legislative language to accomplish the stated goal of their proposed legislation. Registration opens Oct. 12.