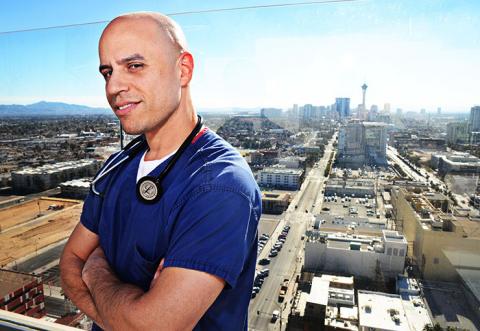 We are excited to announce that Dr. Zubin Damania (ZDoggMD) will be bringing the house down with his comedic, inspirational message in Houston this summer as the 2017 NATA Keynote Speaker. Let's just say this: You've probably never met a physician like Dr. Z before!
During his 10 years as an internist at Stanford, he won clinical teaching awards while maintaining a side career as ZDoggMD, a stand-up comedian with a knack for medical satire. He went on to found Turntable Health, an innovative health care startup that was part of an ambitious urban revitalization movement in Las Vegas spearheaded by Zappos.com CEO Tony Hsieh.
He may deliver his words through music and parody, but the message is about more than just laughs. Dr. Z is passionate about building a health care culture he coined "Health 3.0" that is focused on medicine as a calling, not a career. It's all about building relationships with your patient population and connecting on a personal level while using evidence and outcomes to inform your practice. His message speaks right to one of the special qualities of the athletic training profession, the ability to earn the trust of his/her patient in order to be able to provide compassionate, competent care that is truly fulfilling for the provider.
"In Health 3.0 we are evidence-empowered, but never evidence-enslaved," Dr. Z explains on his website, zdoggmd.com. "We find a nerdy kind of joy in process improvement science that allows us to better achieve the outcomes that matter to our patients… This is medicine as a living, evolving, beautifully complex organism where every cell is unique yet an integral part of the larger whole. And here we find the joy of caring restored."
Dr. Z is an inspiration to us all when it comes to pursuing his passions and finding life balance in a profession where it's notoriously hard to do; he has managed to combine his love for comedy and performing with his medical training into a career as a really funny doctor who serves the underserved. What's not to love about that?
Being a health care provider is a heavy responsibility. ZDoggMD knows the struggle is real, but he's an expert in finding humor in the day-to-day realities of patient care. You don't want to miss his funny, heartfelt message about returning to the joy of patient care.
Make plans to join us at 4 p.m. June 28 in Houston for the NATA Keynote sponsored by Cornerstone NATA Sponsor, Cramer Products. Visit convention.nata.org for more information.