June 17, 2021 by
Elizabeth Quinn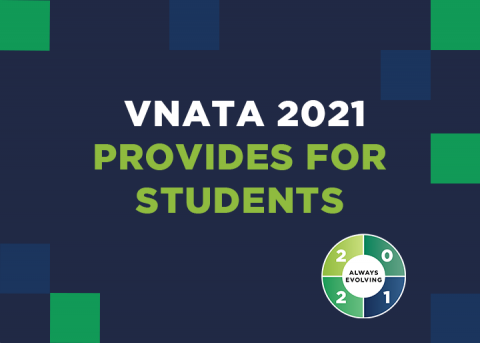 The 2021 NATA Virtual Clinical Symposia & AT Expo offers a variety of opportunities specific to athletic training students. From testing their athletic training knowledge to a seminar dedicated to the topics that impact them, VNATA 2021 will provide educational opportunities for all athletic training students.
Athletic Training Student Seminar
The annual Athletic Training Student Seminar (ATSS), presented by the NATA Student Leadership Committee, provides athletic training students with education, knowledge and resources to advance within their athletic training career. ATSS will begin at 11:15 a.m. CDT Tuesday, June 22.
ATSS will highlight the changes that took place in 2020 and showcase how the athletic training profession is advancing, touching on the COVID-19 pandemic and focusing on the progression of the profession as students start their careers.
"Our sessions touch on making our profession safer for all – with medical models for collegiate sports, international medicine with the ability to be an AT internationally and diversity and inclusion in our clinics," said Julia Snow, SLC Outreach Subcommittee member. "We are excited to wrap up the ATSS with our VNATA Chat, 'The ATSS Career Panel.' We are inviting four really amazing ATs who have challenged themselves to make their community better. Jeff Allen, inventor of the pop-up medical tent; Adam Halpern, MA, ATC, CSCS, CEO and founder of InnovateAT; Jovan Means, MS, ATC, high school AT and cut man for boxing and MMA fights; and Andrea Durham, founder and president of Minority Women in Sports. Join us as they talk about their path through making their mark in athletic training."
Following the ATSS there will be the ATSS Safe Space Training at 11:15 a.m. and 2:15 p.m. CDT Wednesday, June 23, as well as an ATSS Breakout Sessions June 23 and 24.
Quiz Bowl
The 2021 NATA Quiz Bowl will be a virtual event using the Kahoot! platform. Each district will be represented by one student competing for a cash prize that will be awarded to their school's athletic training program or club. Spectators will be able to watch the competition and cheer on their district's representative via Zoom. The Quiz Bowl is at 5 p.m. CDT Tuesday, June 22.
General Session and Changing of the Guard
Athletic training students are encouraged attend the General Session and Changing of the Guard at 10 a.m. CDT Tuesday, June 22. During this all-attendee event, NATA Treasurer Chris Hall, MA, LAT, ATC, will provide an association finance update before NATA President Tory Lindley, MA, ATC, delivers his final State of the Association Address. After the State of the Association Address, the Changing of the Guard will take place with Kathy Dieringer, EdD, LAT, ATC, taking office as the 15th NATA president. Dieringer will then give her first official presidential address to membership as she looks to the future and lays the road map of what's ahead for the association.
Register Today!
NATA non-certified student members can attend VNATA 2021 for $49.
For the entire pricing breakdown, more information and to register, visit the convention website.