July 23, 2020 by
Elizabeth Quinn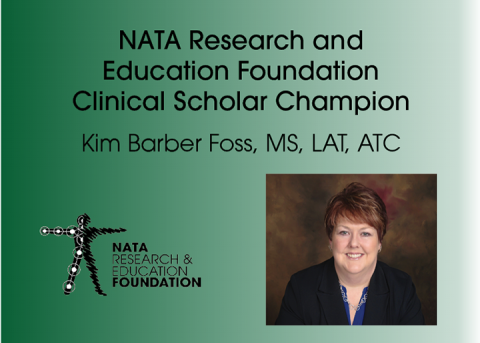 Editor's note: The Strategic Alliance's Athletic Training Research Agenda Task Force is highlighting clinical members who have been recognized by one of their colleagues in athletic training as a Clinical Scholar Champion for their efforts in collecting point of care research. This blog series will celebrate clinical scholars in order to illustrate how research is being used in the clinical practice.
Kim Barber Foss, MS, LAT, ATC, is the senior research assistant at Cincinnati Children's Hospital. She is a self-described detail-oriented person who tracks injuries, encounters and maintains information to monitor an injury's risk, rate and trend. Barber Foss uses this data to inform clinical decisions she'd make in assisting injury prevention, facility management, supplies, etc. For these reasons, Barber Foss is a Clinical Scholar Champion.
What motivated you to become involved in research? 
I am very much a data and numbers person. Plus, I think I'm pretty inquisitive and seek to find answers to questions. I think that is what continues to draw me to research – finding new innovations, new techniques, that can enhance the athletic training profession or improve patient outcomes.
How can your findings be used to guide athletic training medical practice? 
I think I've contributed to the athletic training literature in several areas: injury epidemiology, biomechanics (anterior cruciate ligament) and mild traumatic brain injury neuroimaging. While most of my known work is mostly in the biomechanics and ACL realm, I think injury epidemiology is where a lot of my passion lies. I think our newer area of virtual reality, biofeedback and the whole brain connection may impact how athletic trainers view injury rehab from merely a physical healing to also encompassing more motor learning and neural components. This is such an exciting new area of research where ATs really can be hands-on in implementation.
What is the No. 1 advice you would give to another clinician interested in getting involved in a research study? 
Just do it. Don't let fear, time or the "research stigma" hold you back. Also, research really can be anything. There is this notion that "research" is only a randomized controlled trial, or it's only expensive lab studies, but research is really anything that answers a question. Think about your daily clinical experiences. Are you seeing something new? Are you noticing trends? Then set out to try to answer that question. Document your observations or findings. Share with colleagues. Try something – perform your own "intervention." All of that is research. Then implement that finding into your clinical care. Does it make a difference? Identify what worked and what didn't. It's a cyclical process. 
Often clinicians really get hung up on just what is research. Now, with the focus on evidence-based practice, this has become more apparent. Clinicians tend to forget that EBP is a tripod approach and that their experiences also matter. In the EBP research methods classes I teach, I talk about the "A's" related to EBP: adopt, adapt or abandon. When new research comes out – whether it be a technique, modality, rehab, etc. – as clinicians, we can choose to adopt this new information into our clinical, day-to-day practice. Or maybe, what we are currently doing has merit, but it may be improved or enhanced by this new research – so we can adapt our clinical practice. Also keep in mind, not all research or new ideas works for everyone, and a clinician may choose to abandon and continue their clinical practice based on their expertise.
There is concern that such integration of research with clinical practice may be too time consuming. What have you found helps you manage your time?
I can approach this several ways. First off, integrating new research may save time, ultimately, with new techniques or practices or in improved outcomes. Granted, conducting research while clinically practicing may be time consuming in the moment, but the results, long term, outweigh the present. I try to keep that big picture in mind – focus on the end goal rather than the challenge of the day. 
In terms of managing my time, I try to be very focused and plan ahead as much as I can. I'll plan out each day and then each week and try to actually assign tasks to a schedule/time to make sure everything gets accomplished and nothing gets forgotten. 
What are the other major barriers to collecting data at the point of care? What strategies did you employ to address these barriers?
Aside from time itself, you also need to consider aspects of patient consent and making sure they understand and agree to participate. ATs may also run into issues where they may have conscience concerns. Sometimes, it can be challenging to work with control subjects if you are testing something that has the potential to really make a positive impact. For example, when we were doing an ACL-prevention intervention study that we know, as ATs, neuromuscular training can help in prevention, it was difficult for me to randomly assign girls into a control that only receive some speed training.
Strategies to address some barriers – always starts with a protocol or plan. Writing out what you plan to do for your project keeps you accountable and keeps you focused. Even if your plan is a simple outline of your question at hand and what you want to measure as an outcome. It helps guide the journey to your final destination.