February 28, 2019 by
Beth Sitzler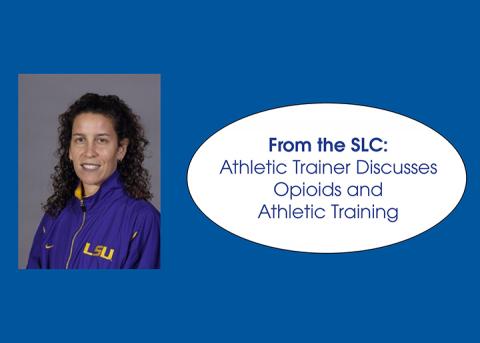 For this entry in the ongoing SLC Blog Series, the NATA Student Leadership Committee talked with athletic trainer Shelly Mullenix, MS, ATC, about the opioid crisis facing America and athletics.
Mullenix serves as the senior associate athletic trainer and director of wellness for the Athletic Department at Louisiana State University. She has worked with college-aged, elite athlete population for more than 27 years with a unique focus on mental health and wellness. With advanced degrees in health education, athletic administration and social work, she has worked to maintain a high level of expertise in the areas of physical and mental health, substance use and substance abuse treatment, particularly regarding drug trends that affect the athletic population.
How does the opioid crisis affect the athletic population?
The athletic population is effected by the opioid epidemic in a very direct way. With pain and injury often being a result of rigorous, physical activity, athletes find themselves seeking relief from pain and discomfort through the use of pharmaceuticals. Whether the pain is a result of a sprain, strain or, in some cases, a result of surgical interventions, the real and perceived need for prescription opioids becomes a quick fix. In the culture of athletics and competitive sports, many athletes believe that for every day they are not able to practice or play due to pain, they risk losing their starting positions or status on a team. It is this drive to succeed at all costs, coupled with some physicians who may find it easier to cope with an athlete's chronic pain by offering increasing quantities of opioids, that contribute to the growing problem of opioid misuse within the highly competitive environment of athletics.
How can ATs work alongside physicians to help this crisis?
Athletic trainers have the unique opportunity to work collaboratively with the athlete, their guardians (if they are considered minors) and the physician to properly evaluate injuries, assess and suggest the appropriate physical rehabilitation and monitor the athlete's recovery progress. I also believe our physicians and athletic trainers must ask difficult questions that are frankly just easier to not have to inquire about.
We must also think outside of orthopedic injuries when we are addressing issues of opioid misuse. These medications are often prescribed by oral surgeons and dentists for dental procedures, such as wisdom teeth extractions and root canals. While only a few pills may cover the pain, the quantity of pills, such as OxyContin and Hydrocodone, are often prescribed in excess of what is typically needed. Because the addiction potential is so high with these medications, a seemingly therapeutic use of opioids can quickly turn into a need for more.
Another area of medicine that may find itself struggling with a fall out effect of opioid misuse is in the family practice setting. The use of medications with Codeine are often prescribed during bouts of upper respiratory infection as well as chronic cough to help quiet the cough response. These medications are highly effective and are not uncommonly shared within a household. Adults allowing children to take "a small amount" for their medication may be seen as fairly innocuous, but consuming opioid, such as cough syrups with codeine, can increase one's dependency or, worse, lead to unintentional death.
What is the future we are hoping for concerning this epidemic?
As allied-medical health professionals, we all would like to see the epidemic of opioid misuse mitigated and/or eliminated. In order for this to be achieved, we would need to see an overhaul in the pharmaceutical industry, from the research and production side down the chain to the physicians who write the prescriptions.  The state and local governments need to assess the ways in which they are fighting this epidemic on the street level focusing efforts on illegal distribution of both prescription and synthetic opioids like heroine. Many states have incorporated tracking systems within their states that allow pharmacies to share an individual's prescription drug data usage with each other. This adds another layer of protection if an athlete might be "doctor shopping" in order to get additional pain medications. Health professionals who provide the clinical care in recovery centers must work within the family system to develop effective means of intervention and treatment.
As athletic trainers, we can work closely with our patients and develop meaningful relationship built on mutual trust and respect. Pain medications should be used with the assumption that abuse potential is high, especially if working with older adolescents and young adults. Proper documentation of all medications that are used within your setting and under the care of your physicians will help to qualitatively and quantitatively draw a clear picture of who may be at greater risk.
As the opioid epidemic continues to evolve, athletic training rooms around the country are considering keeping naloxone handy within their clinical settings. Naloxone, a medication used to reverse the effects of an opioid overdose, is considered a first line defense against this growing epidemic. While athletic trainers may not believe it is their job to engage in such a direct way with the epidemic, I would argue that the duty belongs to all of us. Statically speaking, we are all only within a few degrees of separation from those directed impacted by the opioid epidemic.
How can ATs be involved in this issue in the future?
My approach has always been to open the lines of communication with all of the parties involved. There should be no secrets and we should pass no judgement regarding the use of these powerful pain killers within the confines of the safety and welfare of our student athletes. If the setting you practice athletic training in works with team physicians that are routinely used, perhaps developing a plan to reduce the quantity of medications prescribed at any one time could be considered since a re-assessment of the symptoms can be done more frequently.
In the collegiate setting, we essentially have contact with our student athletes 15 to 18 hours a day. We can monitor their behaviors and personalities with the collaborative support of our academic center, strength and conditioning coaches, administrators and professors, just to name a few. When we begin to see a pattern of behavior that is a change from the norms, we can ask questions. By simply asking, "How have you been sleeping since your injury occurred?" you may open a line of communication that will speak more directly to how they are really feeling and perhaps what they actually might be using to help quiet their active thoughts.
Another way drug and opioid misuse can be discovered is through the use of a well-designed drug testing prevention program. These programs might include educational seminars related to drug use and abuse in sports, random and selective drug testing as part of a medically – managed drug testing program, and providing direct access to counseling and mental health support services who work with those provide medical oversight to the athlete. My approach is to assume that the potential for abuse is there. As such, we must remain active and do our due diligence to minimize the potential for opioid misuse.
What are each of your thoughts on this opioid crisis and how athletic trainers can be involved? Reach to the Student Leadership Committee through social media, email or Gather to start the conversation!