September 29, 2023 by
Beth Sitzler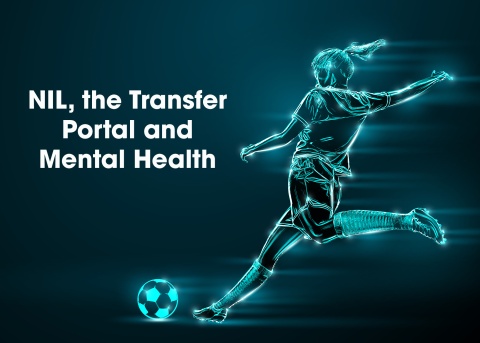 By Erik R. Brown, DHSc, LAT, ATC, and Matthew Powless, PhD, HSPP 
College student athletes already have plenty of things on their plate. Because of their juggling act, they are prone to mental health issues. The changing climate of college athletics has been fluid since 2020 as mental health issues became more paramount with the COVID-19 pandemic and, more recently, name, image and likeness (NIL) and the transfer portal. These issues have added another layer of additional stressors – good and bad.
Student athletes are recruited now with the extra benefits of NIL deals being added to the mix. The benefits of NIL deals might include financial help for family, friends and others while setting student athletes up for a "stable" future.1 NIL deals might include social media appearances and other related activities. With the already known pressures and juggling of being a student athlete, their ability to handle scrutiny in social media can add to potential mental health issues. The psychological nature of money and the relationships between coaches, teammates, faculty, friends and others will be an interesting dynamic to follow up on as this progresses.1
"Tampering" with student athletes who transfer by using boosters, collectives and other resources to enhance NIL deals is another construct in this new age of college athletics.2 The transfer portal is a database of student athletes who intend to transfer from their current school. When their name is in the portal, others schools/coaches may contact that individual. The transfer portal, many have said, is comparable to "free agency," which is even more true with NIL deals.
Recently, Brea Beal, ex-South Carolina women's basketball student athlete and WNBA Minnesota Lynx draftee, said about her mental health, "I invested in myself and that's why I am here today."
To invest in oneself, colleges and universities should have tools in place for student athletes. Research has shown that college student athletes are hesitant to seek mental health services.3 As such, the NCAA has developed more tools and best practices devoted to mental health.4 Athletic trainers should also be familiar with the Inter-Association Recommendations in Developing a Plan for Recognition and Referral of Student-Athletes with Psychological Concerns at the Collegiate Level. 
Athletic trainers, coaches, administrators and other support staff should be aware of their campus resources. At lower divisions (Division II and Division III), athletic trainers tend to administer and interpret mental health screenings while many sport psychologists complete these tasks at the Division 1 level.5 As noted by Timothy Neal, MS, ATC, in Mind, Body and Sport: Interassociation Recommendations, there are quite a few warning signs that one should be wary of and can include drug or alcohol use, unexplained weight loss, talking about death, becoming more irritable, etc. The importance of timely administration and interpretation of mental health screenings will in turn expedite the referral process for appropriate evaluation and subsequent interventions.
If an athlete is screened for mental health concerns and treatment is indicated, one of the primary barriers to athletes seeking mental health treatment is the attitudinal barrier or stigma of not wanting to seek help for psychological concerns.6,7 However, this stigma is changing with the increase in mental health awareness among athletes. Moreover, athletes report that a helpful factor in pushing them to seek psychological treatment is an athletic trainer helping them to identify that help is needed and facilitating the referral process.6
Athletes tend to find psychological services beneficial once they've sought them out, thus, support and encouragement can play a major role in athletes taking the first step toward improving their mental health.6 Furthermore, when athletes work to improve their mental health, it can be beneficial on multiple fronts. Namely, research utilizing a Mental Health Model approach to sport psychology has demonstrated a negative correlation between performance and mental illness, suggesting that psychological services may not only alleviate mental health concerns, but also improve athletic performance.8
Current literature suggests a number of approaches and modalities of psychological treatment that may be effective in treating the mental health concerns of athletes such as, but not limited to: individual psychotherapy,9 group psychotherapy, cognitive behavioral approaches,10 mindfulness-based approaches,11 mobile apps,12 psychotropic medication13 and allowing athletes to rest,14 depending on the concern.
Given the ever-changing landscape of college athletics, knowledge of the various methods that may be effective in improving an athlete's mental health could be valuable for athletic trainers to be aware of so referrals to the appropriate level of intervention can be made based on the athlete's concerns, personality, and institutional context.
NIL and the transfer portal have added another layer to the complexity of college athletics. Athletic trainers, the sports medicine team, college administrators and coaches should continue to review their policies and procedures to be able to address mental health concerns moving forward.
References
Stephenson, L. (2021-2022). More money, more problems? A look into the psychological ramifications of name, image, and likeness deals in college athletics. Law & Psychology Review, 46, 273-290.
Lens, J. (2023). Ramifications for NIL booster collectives and coaches who "tamper" with prospective transfer student-athletes. Available at SSRN: https://ssrn.com/abstract=4366040
Moore, M. (2017). Stepping outside of their comfort zone: Perceptions of seeking behavioral health services amongst college athletes. Journal of Issues in Intercollegiate Athletics, 130-144.
NCAA Sport Science Institute (2020). Mental health best practices: Understanding and supporting student-athlete mental wellness. Retrieved from https://www.ncaa.org/sports/2016/5/2/mental-health-best-practices.aspx
Drew, M., Petrie, T. A., & Palmateer, T. (2021). National Collegiate Athletic Association athletic departments' mental health screening practices: Who, what, when and how. Journal of Clinical Sport Psychology (published online ahead of print). https://doi.org/10.1123/jcsp.2021-0036
Bird, M. D., Chow, G. M., & Cooper, B. T. (2020). Student-athletes' mental health help-seeking experiences: A mixed methodological approach. Journal of College Student Psychotherapy, 34(1), 59-77. https://doi.org/10.1080/87568225.2018.1523699
Moreland, J. J., Coxe, K. A., & Yang, J. Y. (2018). Collegiate athletes' mental health services utilization: A systematic review of conceptualizations, operationalizations, facilitators, and barriers. Journal of Sport and Health Science, 7, 58-69. https://doi.org/10.1016/j.jshs.2017.04.009
Raglin, J. S. (2001). Psychological factors in sport performance: The mental health model revisited. Sports Medicine, 31(12), 875-890. doi: 10.2165/00007256-200131120-00004
Stillman, M. A., & Farmer, H. (2021). Psychotherapeutic approaches to addressing mental health problems among elite athletes. In R. Taiar (Ed.), Contemporary advances in sports science (pp. 229-238). IntechOpen
Kara, E., Türküm, A. S., & Turner, M. J. (2023). The effects of Rational Emotive Behaviour Therapy (REBT) group counseling program on competitive anxiety of student-athletes. Journal of Rational-Emotive & Cognitive-Behavior Therapy. https://doi.org/10.1007/s10942-023-00497-z
Evers, A. G., Somogie, J. A., Wong, I. L., Allen, J. D., & Cuevas, A. G. (2021). The adaptation and evaluation of a pilot mindfulness intervention promoting mental health in student athletes. Journal of Clinical Sport Psychology, 15, 206-226. https://doi.org/10.1123/jcsp.2019-0083

Miralles I, Granell C, Díaz-Sanahuja L, Van Woensel W, Bretón-López J, Mira A, Castilla D, & Casteleyn S (2020). Smartphone apps for the treatment of mental disorders: Systematic review JMIR Mhealth Uhealth, 8(4). https://doi.org/10.2196/14897
Reardon, C. L. (2016). The sports psychiatrist and psychiatric medication. International Review of Psychiatry, 28(6), 606-613. http://dx.doi.org/10.1080/09540261.2016.1190691
Meeusen, R., Duclos, M., Foster, C., Fry, A., Gleeson, M., Nieman, D., Raglin, J., Rietjens, G., Steinacker, J., & Urhausen, A. (2013). Prevention, diagnosis, and treatment of the overtraining syndrome: Joint consensus statement of the European College of Sport Science (ECCS) and the American College of Sports Medicine (ACSM). European Journal of Sport Science, 13(1), 1-24. https://doi.org/10.1080/17461391.2012.730061