April 7, 2020 by
Beth Sitzler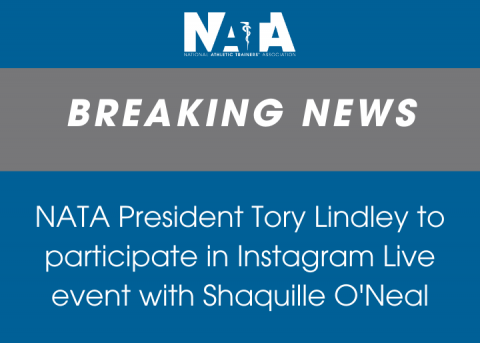 In the midst of the COVID-19 pandemic, athletic trainers have determined ways to remotely impact health care, wellness and safety for their patients and communities. One way NATA is doing this is by partnering with influencers to continue to promote patient care and prevention.
NATA President Tory Lindley, MA, ATC, will join Shaquille O'Neal at 4 p.m. ET April 7 (today) for an Instagram Live event as part of Icy Hot's Rise Up campaign.
During the Instagram Live, Shaq will address how student athletes can keep active while practicing social distancing. He will chat with viewers about how to have fun while staying active indoors and the importance of doing their part to be a good teammate to their friends, families and communities by abiding by shelter-in-place orders and social distancing guidelines.
Lindley will discuss the importance of injury prevention and how to stay safe while remaining active at home. The focus will be on remaining game-ready for a safe return to sports. Lindley will touch on the importance of proper warmups and cool-downs to muscle health; the impact sleep has on healing, recovery, metabolism, muscle growth and more; staying hydrated; the role of healthy eating; and the dangers of overuse.
The Instagram Live will take place on Shaq's Instagram account. Members are encouraged to share this event information with student athletes, parents and other members of their communities. Be sure to tune in to see Lindley and Shaq discuss health and safety! 
For more related resources, visit the NATA COVID-19 resource page.